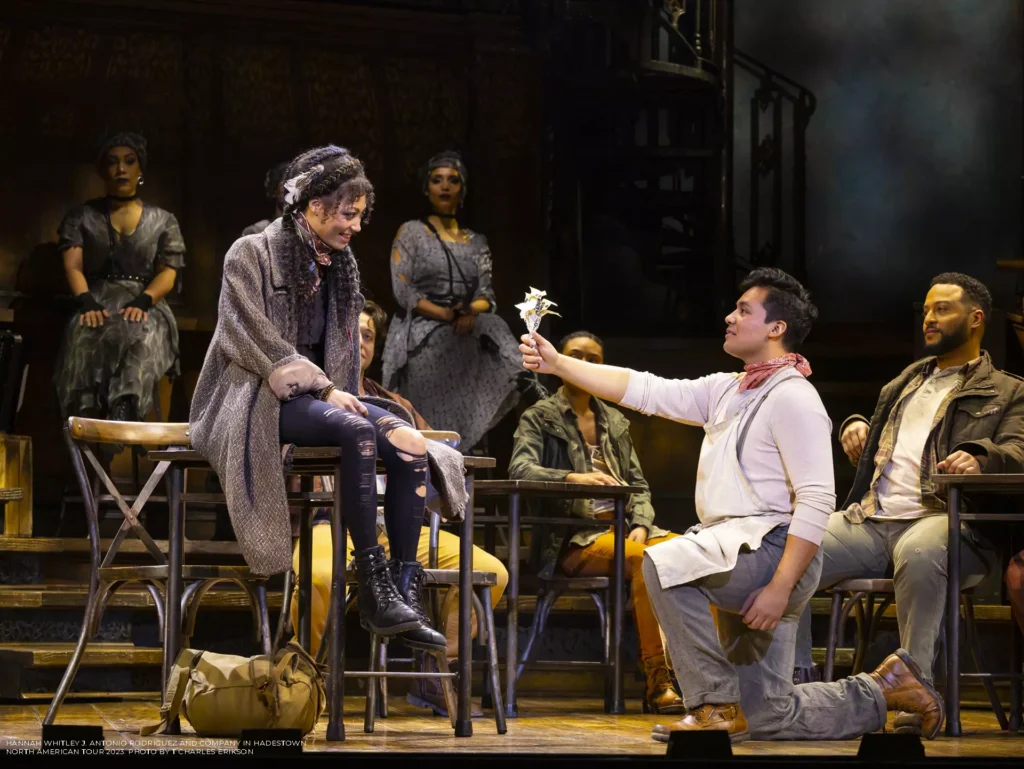 It's an old song
It's a sad song
We sing it anyway
Hermes, Hadestown
by Jeff Grygny
There's no three-headed dog, no ferryman on the Styx. But make no mistake, Hadestown is the real thing: its creator, the supernaturally gifted Anaïs Mitchell, has obviously lived, dreamed, and traveled in the myths of Orpheus and Persephone, and she's distilled their essence into a fable that speaks to parts of us that we might not have even known we have. It's no wonder this raucous, rowdy, and deeply moving show won eight Tony awards and played on Broadway for over a thousand performances. Now it's come here, in a touring production currently playing at the Marcus Center for the Performing Arts.
Mitchell sets her cosmic opera in a fairy-tale America, somewhere in the South, perhaps New Orleans. It's a mythic, honky-tonk landscape reminiscent of Max Fleischer cartoons or Cohen Brothers movies. It doesn't sound like highly processed Broadway Entertainment Product; it's musical vocabulary is old-timey, with  jazz, folk, and Cajun flavors. You wouldn't be surprised to see Tom Waits slouching in the corner. The remarkable orchestration by Michael Chorney and Todd Sickafoose deploys strange combinations of fiddle, cello, accordion, glockenspiel, and double bass, ably led by Eric Kang on stand-up piano, to create uncanny harmonies and haunting dissonances that echo a universe in constant precarity and go straight to our hearts, like the magical chords of Renaissance magic.
And like the first true opera, Monteverdi's L'Orfeo, the show is entirely sung. It tells its story through feelings—and those feelings are mighty. There's no back story for Orpheus and Eurydice, and no need for any. He's a struggling singer/songwriter with a vision of restoring the world through art; she's a young woman down on her luck who catches his eye. The capable touring cast performs with professionalism and flashes of brilliance. Hannah Whitley communicates Eurydice's hardscrabble biography with her body language.  J. Antonio Rodriguez, with a falsetto like struck crystal, makes us believe that Orpheus can charm love even into the king of death.
Maria-Christina Oliveras brings abundant sass to her role as party girl/nature goddess Persephone (she's the one they sing about when they sing "she's comin' around the mountain"). Nathan Lee Graham plays Hermes, the prince of magicians and salesman, with great panache, and, playing Hades, Matthew Patrick Quinn's intimidating basso voice rumbles itself right into your chest. As the Fates, feared by both men and gods, Dominique Kempf, Belén Moyano, and Nyla Watson play their own instruments, making a sinister chorus of the sisters who know everything and smile as you go to your doom.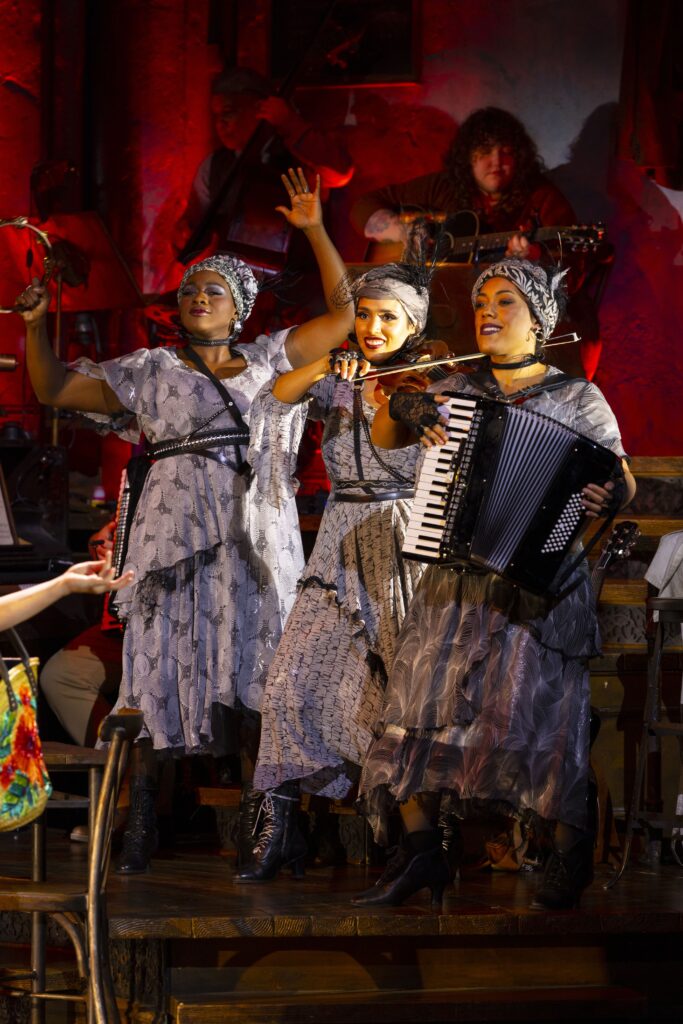 The production glitters with all the technical arts of Broadway, including a revolving stage that's very effectively incorporated into the choreography. The rock-concert lighting, underscoring every dramatic beat and mood shift, seems designed to make sure that even the drowsiest patron stays awake.
In this 19th century myth, the underworld is a factory town. While Persephone is up in the land of sunlight, the brooding Hades mines coal and forges steel; he builds engines and generators, and surrounds his realm with a great wall, convincing his slaves that it's for their own security. Persephone is less than impressed: "it 'aint natural." she sings. When Orpheus arrives to help Eurydice break her desperate contract, he becomes something of a union organizer for the dead souls condemned to endlessly stoking Hades' furnaces. It's a powerful metaphor for the degrading effects of industrial capitalism, both on the natural world and on the human heart.
Orpheus's songs awaken the spirit of love—but in the end he can't defeat the Fates. Unlike Monteverdi, Mitchell leaves the tragic ending of the original myth intact. But she's kind enough to let us down gently, and, after the curtain call, the players sing a final song as they raise their wineglasses in a salute to the eternal artist, seeing a vision of a world of love, and brought low by the cruelty of The Way Things Are, only to try again and again. Who knows—maybe next time will be different.
Broadway Across America presents
Hadestown
Music, lyrics and book by Anaïs Mitchell
playing through May 7