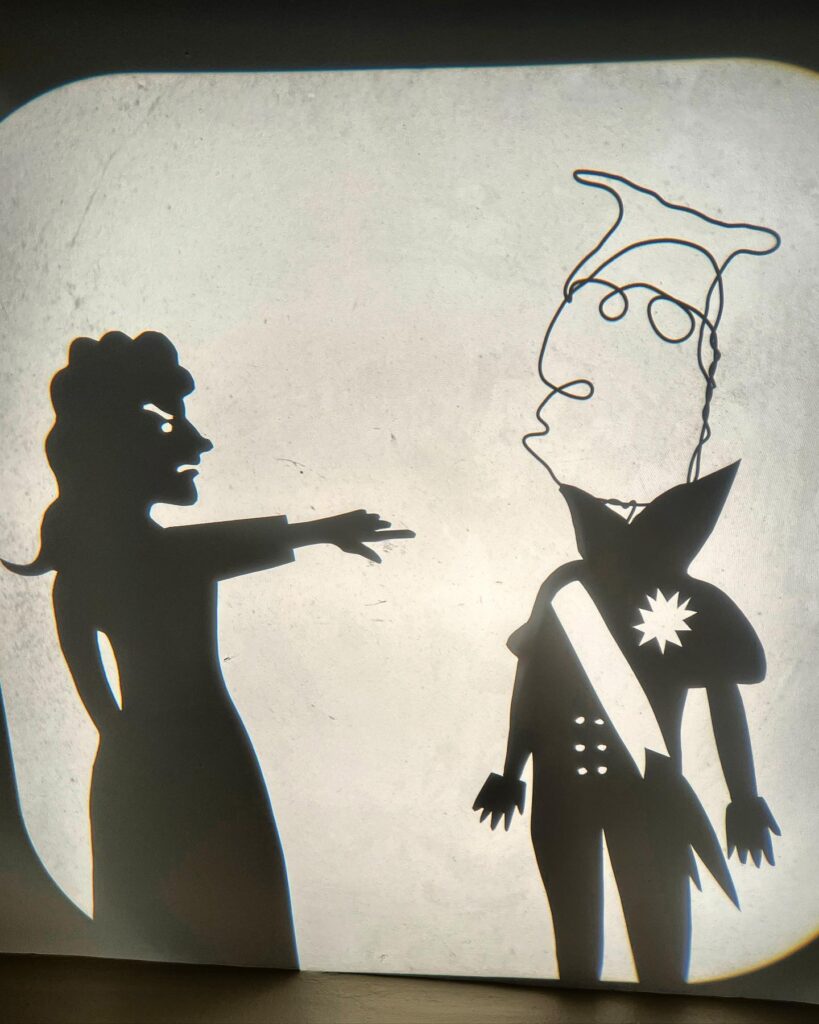 by Jeff Grygny
A "lady knight" fights a sorceress for the love of her boyfriend, another knight; A woman brings scandal on herself by sleepwalking into a man's bedroom; Wotan imprisons his daughter Brunhilde in a ring of fire; a blind princess is cured by someone telling her about vision; a disgruntled wife turns into a man and her husband gives birth to thousands of children, causing an economic crisis. And so on.
Sooner or later every opera lover must reconcile herself to the blunt fact that the plots of operas are often quite silly. Of course, music and storytelling require very different skill sets. But not only that: most of these convoluted tales of swooning princesses, anguished monarchs, potions, curses, and various enchanted accessories are the products of male artists writing female characters who fulfill their fantasies. Problematic!
You can blame this unhappy state of affairs on the sixth century Frankish king Clovis, who, after the collapse of the Roman empire, instituted the Salic Law, which banned women from inheriting property or titles, and thus laying down the shape of the fairy tale world of opera, and bequeathing Europe—where opera was created as an elite pastime—centuries of rule by (literally) entitled lunks to whose desires (along with their wives and mistresses, no doubt) artists either had to pander, or go back to working in their dad's dull businesses.
Be that as it may, when the most imaginative and daring stage directors in our fair city, Jill Anna Ponasic and Brian Rott, team up with Chicago-based artist Jeffrey Mosser to tackle opera, you can be sure something amazing will happen. Fully engaging with these works' silliness and outdated norms, they transform them into a pleasingly disorienting spectacle, playful and feather-light, while showcasing a cast of seven wonderful singers who deliver excerpts from seven of the weirdest operas ever written, from warhorses like the Ring Cycle to oddities like Les Mamelles de Tirésias, based on the first surrealist play.
The game is afoot even before curtain: the audience is cast as guests at a wedding reception for Bluebeard (from Bartók's opera). Kirk Thomsen, playing the eponymous Duke, is jovial with a vaguely menacing undercurrent as he works the crowd with loose-cannon ad libs. His new bride, Judith, played by the incomparable Jessi Miller, seems a bit uneasy, though. Bluebeard reveals the eight doors of his castle, which we are to explore—except for the last, luridly rendered in red, which we are forbidden to open. This is a very clever premise for a smorgasbord of clips and synopses. The singers remain onstage, as in a recital, standing to perform their dreamlike vignettes. The most delirious moments come with the speed-run through The Love for Three Oranges, in which a prince laughs when a witch accidentally shows her underwear, and she curses him into falling in love with fruit. I'm not making this up: it's the actual story!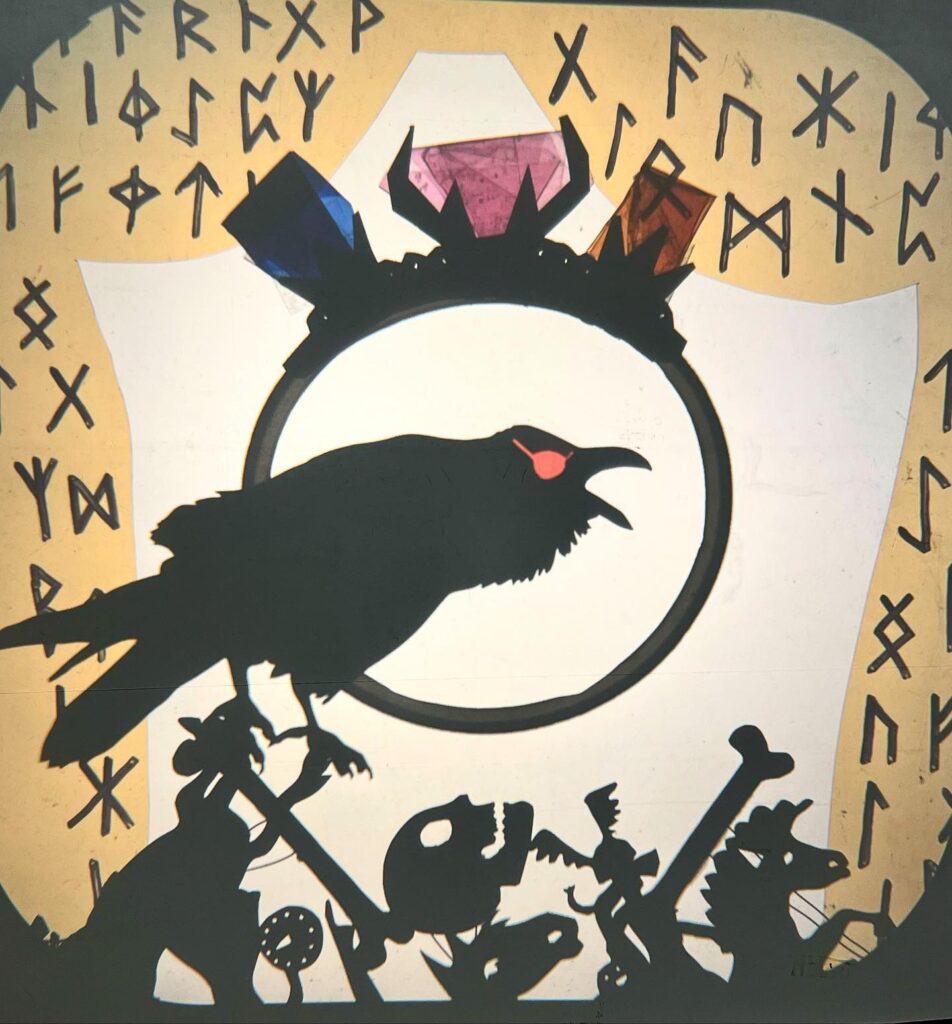 All this is illuminated by the sublimely low-tech animations of Anja Notanja Sieger, who manipulates exquisite cut-out figures over an antique overhead projector, using common objects like ribbon, lace, and a colander to create trippy visuals that dance in the border between child's play and high art, like the work of the great underground film maker and mystic Harry Smith. Sometimes you have no idea what's happening: you're just washed in a flood of bizarre imagery and exquisite music. It's the artiest thing Milwaukee has seen since the pandemic before-time. When Notanja Sieger, Thomsen, and Miller are all hovering over the glowing square of the projector, coordinating their tiny puppets, they seem like magicians, creating reality before our very eyes, or scientists, fusing image, music, and narrative into a plasmic fourth state of matter. And on a purely animal level, something about these moving shadows really works with the opera in this age when we're so used to watching images on little screens: the wiggling shapes give non-opera buffs something to do with their brains and actually let them hear the music better.
And the music, under the lively direction of Janna Ernst, is gorgeous. Soprano Cecilia Davis brings great feeling to the role of Amina the sleepwalker, and aces the high notes of the Queen of the Night; David Guzmán's bass voice delivers a powerful Wotan and Sarastro; Kathy Pyeatt's soprano makes us feel the wonder of Iolante discovering sight for the first time. The whole cast fully commits to the offbeat premise. And as the show goes on, Bluebeard and Judith discuss their relationship, revealing things about their pasts: he's been married before (eight times, to be honest); she's had a girlfriend with whom she's still in contact. This is all delivered in a matter-of-fact tone with a perfect touch of camp, like an avant-garde vaudeville routine.
It's indescribably refreshing to see something again that's so truly, daringly experimental, while at the same time utterly playful and unpretentious. This dreamy fusion opens up a liminal space between music and story, between high and low art, and even, perhaps, in the historic war between the sexes. Who knows: maybe Bluebeard and Judith can work things out.
Alas, this production has run it's one-week course, but we can only hope to witness more collaborations like it.
Milwaukee Opera Theater presents
Impossible Operas
Featuring Music by Handel, Mozart, Bellini, Wagner, Tchaikovsky, , Prokofiev, and Poulenc
Created by Tim Rebers, Brian Rott, Jeffrey Mosser, ​Anja Notanja Sieger and Jill Anna Ponasik
Stage Directors: Jill Anna Ponasik, Jeffrey Mosser, and Brian Rott