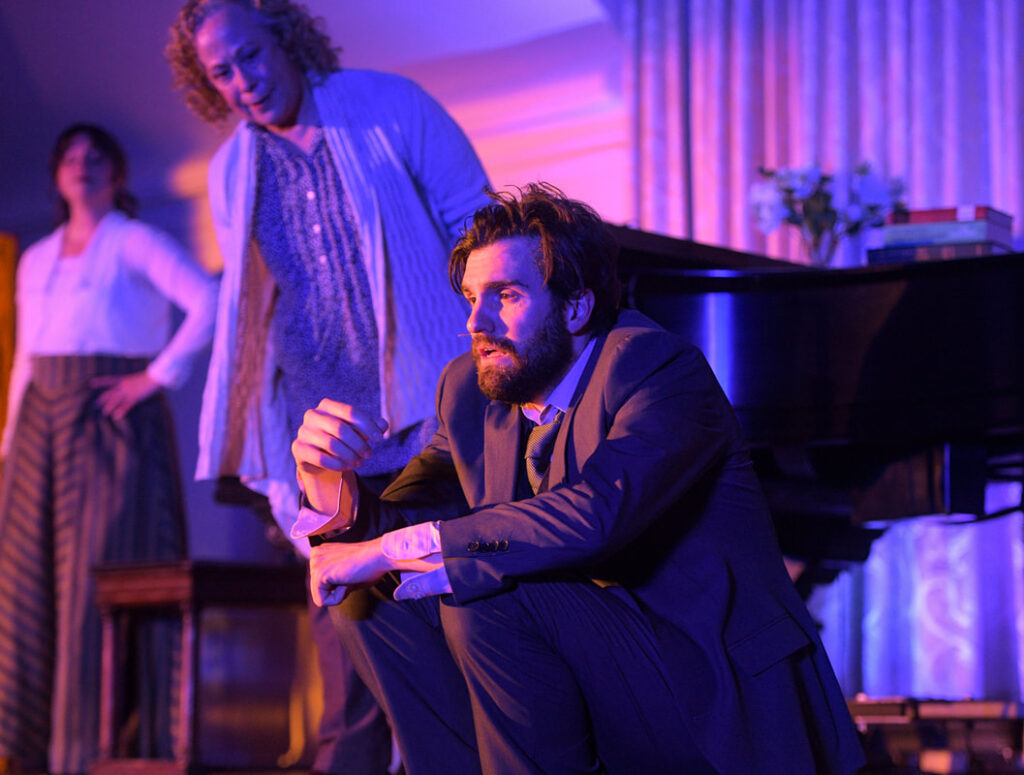 by Jeff Grygny
On the face of it, artist's block wouldn't seem to be the most compelling topic for drama. But in the hands of Milwaukee Opera Theatre, Preludes, a musical fantasia based on a crisis in the life of the Russian composer Sergei Rachmaninoff, feels like what we need in our collective time of stress and long isolation: a wise and gentle path through despair to the vital force that inspires us. There are lots of reasons for putting this show—which plays this week only! — on your must-see list:
The appropriately elegant ballroom of the Woman's Club of Wisconsin, with its high arched proscenium and Romanesque decor, is a very classy venue. Even the chairs have their own uniforms!
The impressive bulk and rich timbres of the biggest concert grand piano you're ever likely to share a room with, ably handed by MOT Music Director Ruben Piirainen sitting in for the melancholy composer.
The contemporary stylings of two digital synthesizers, whose blooping, humming tones color the inner world of the artist on his dark journey, washing over you along with the ever-shifting hues of Jim Padovano's lighting design.
The athletic yet nuanced performance of Joe Picchetti as The Artist Known as "Rach," performing the non-piano parts of the character. Despite being given little to work with but infinite variations on the theme of angst, Picchetti anchors the show in honest, energetic feeling. This is not a depressed Russian composer, it's a man who is energetically fighting to find his way to the other side.
The delightful comic relief of Joel Kopischke, who plays a multitude of famous figures with distinct and diverse qualities: Anton Chekhov (voluble and authentic, bringing his famous gun, and true to the rule, firing it off almost immediately); Tchaikovsky (enthusiastic and handsy); Tolstoy (brilliant and grouchy), and Tsar Nicholas to cap things off.
Natalie Ford brings vibrance and sensitivity to the role of Natalya, Rach's live-in partner. In one song, she movingly expresses the struggle of people who try to support their loved ones through mental illness. In another speech, she recalls how they fell in love: playing together a four-handed piece by Beethoven. As Nikolay Dahl, the hypnotherapist who treats the composer, Jenny Wanasek brings a calm, gentle presence. Her method is simple. "I thought there would be more sorcery," Rach says after his first session. But using insight as much as hypnosis, Dahl learns who Rachmaninoff is, so that when he relives his trauma in trance, she knows just what chords to strike to bring him back into harmony. (The historical Rachmaninoff later dedicated a piano concerto to Dahl).
Molloy offers a curated selection of mostly Rachmaninoff's works— resonantly delivered by Piirainen on that Cadillac of a piano— many set with original lyrics, along with original songs "suggested by" other Rachmaninoff compositions. The book is packed with evocative imagery: much of the dialog is delivered simultaneously with the music, which, despite the actors being miked, sometimes leads to an unfortunate struggle to hear both.
Stage Director Jill Anna Ponasik brings her usual playful inventiveness to the table, weaving narrative actions and abstract movements alike into the rhythms of the score. The show, which plays rather like a hybrid of opera, musical theatre, and recital, is set in "Rachmaninoff's Mind," which relieves the obligation to be literally historical; indeed, Molloy brings his concerns into the present day by dropping little anachronisms into the dialog. It's not really about Russia; it could give heart to any folks in difficult times, be they Russian, Ukrainian, or American.
Making art isn't all about the stories that we tell ourselves about ourselves. Like a blossoming lilac, it comes into being of it's own inner purpose; it effluoresces; it does what it needs to do to move life along. As you sit in the high vaulted space, with the melodies, harmonies, and colors. washing over you it's like going into a revitalizing trance to connect with something deeper than identity, a place where the travails and the joys of life sound together like the voice of a river whose innumerable plashes merge into a complex chorus singing endlessly about time, the earth, life. It's like a spa for the soul.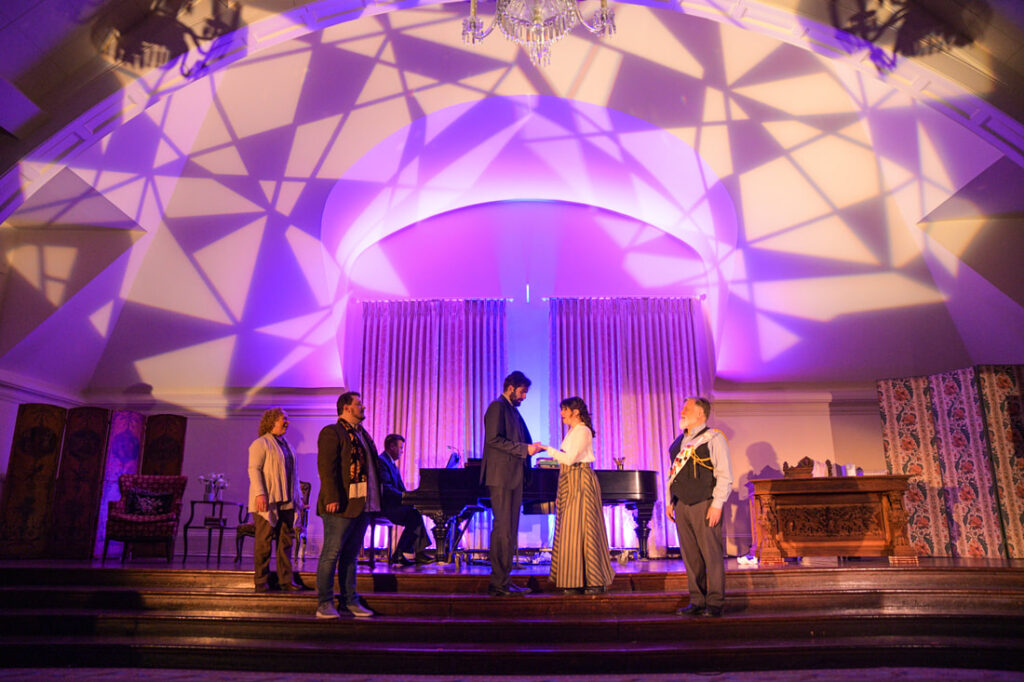 Milwaukee Opera Theatre presents
Preludes
Music, Lyrics, Book and Orchestrations by Dave Malloy
playing through April 9