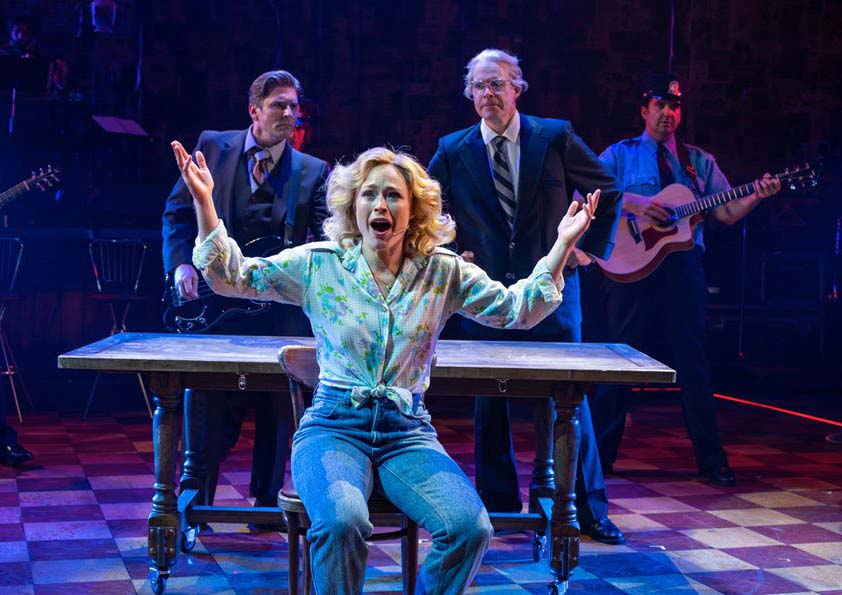 by Jeff Grygny
The story is irresistible, really: Lawrencia Bembenek, Milwaukee cop, playboy bunny, convicted murderess, escaped felon—and maybe framed? Villain or victim? It has everything: crime, sex, betrayal, corruption . . . it was a big fat slice of Wisconsin sleaze, and it was irresistible to the local press back in the early 1980s too. It just begs for a big trashy musical, doesn't it? And who better to write the score than Gordon Gano of Milwaukee's cult band Violent Femmes, whose small-town dysphoric sound won their own fame in the 80s. So, after a decade-long gestation, a show is born: Run Bambi Run, a collaboration by Gano, Milwaukee Rep's Artistic Director Mark Clements, and acclaimed playwright Eric Simonson of Chicago's Steppenwolf Theatre. The musical is currently playing in it's world premiere at the Rep.
And what a show it is: a raucous, rowdy panorama of Milwaukee's seedy side, detailed and razor-satirical as any painting by Breughel or Hogarth, or a comic by R. Crumb. The Milwaukee Chamber of Commerce is not likely to love it; our city looks like a mean, corrupt, and tawdry place from its gutter perspective, which summons a cast of caricatures from the tabloids, sprung to life for our prurient pleasure. Headlines blaze from big screens; timelines flash as the story propels us along Bembeneck's lurid career with the queasy inevitability of a Greek tragedy: the flawed hero hurtling toward her predestined doom.
But for all the show's initial teasing of "is she guilty or is she not?," the book, based on contemporary accounts and later research, unambiguously takes Bembeneck's side. It tracks us through her entire hapless career: every poor choice in relationships, advice not taken, and imprudent decision, to make a pretty convincing case that, even if she was not set up by her scumbag husband, her faithless best friend, her crooked attorney, and the collective animus of the Milwaukee Police Department—who are definitely not Milwaukee's finest—she was undoubtedly outplayed in a game that she was underpowered for from the start.
Under Clements' direction, the show assaults us with bright lights, loud music, and the feverish energy of 12 pumped-up actor/singer/dancer/musicians who play their own instruments excellently while in character—a signature feature of Clements' musicals—under the brilliant music direction of Dan Kazemi. The music is amped so high that earplugs are available in the lobby (I recommend them for Act 2 especially).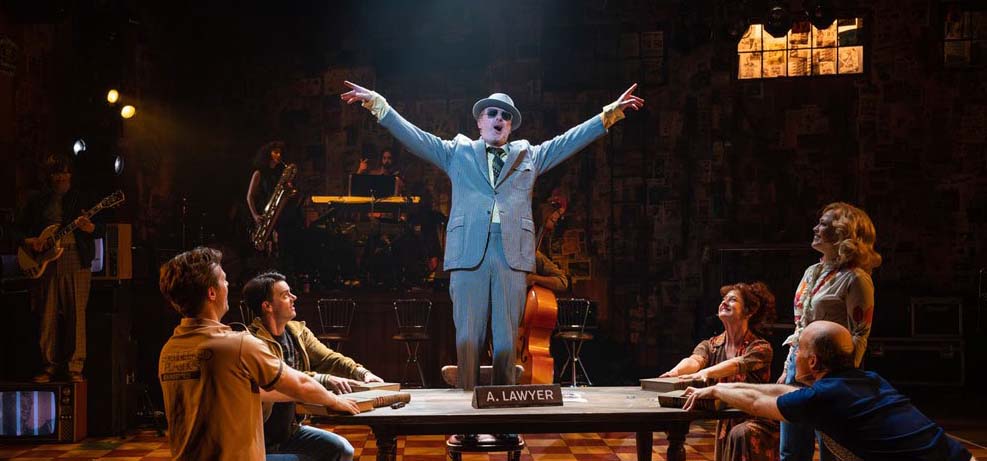 Gano's score, which sometimes veers into the sung dialog of rock opera, recalls the Femmes' jangly post-punk intensity: the opening number, set on New Year's Eve in Tracks tavern, is truthfully entitled "The Seventies Sucked." Gano dips into other styles: a comic "bad roommate" polka, a sentimental ballad to Kosciusko Park, a leering commercial for Lake Geneva, and a roaring Jerry Lee Lewis showstopper rocked out by Douglas Goodheart as the bouffant-headed attorney Don Eisenberg. Lyrically, Gano follows less Sondheim or Lloyd Webber than Iggy Pop, whose dictum was to stick to words of one syllable. The lyrics' blunt simplicity complements the monumental stupidity of the show's milieu, though they often tell us no more than we already know rather than offering any counterpointing perspective.
Does Run Bambi Run critique the grotesque Bembenek circus, or does it partake of it? Two moments cut through the clown show to the emotional truth; curiously, they both feature actress Sarah Gliko, who plays two minor but important characters. One is in the courtroom, when the murdered woman's son, the only eyewitness to the crime, testifies: Gliko, as his mother, slowly crosses the stage like a Shakespearean ghost, singing "Remember me." In the other, she plays a reporter interviewing the indefatigable Erika Olson's 52-year old Bembenek: now free, but weary, sick, and maimed from a bizarre escape attempt. "On a scale from one to ten," the reporter asks, a bit heartlessly, "how would you rate your life?" Bembenek replies stoically, "I'd give it a two." A whole life of potential, wasted in bureaucracy and broken promises, divided, subtracted, and summed up into one dreary number. (Note to the producers: during the intermission I met a former Wisconsin attorney who had socialized with Bembenek; he said that she never used the contraction "ain't." Despite growing up on the South Side; fancy that.)
But the show can't leave the audience on such a bummer ending. Rather like another true crime musical it much resembles, Jesus Christ Superstar, it resurrects the 23 year old Laurie for a final rousing number, celebrating her as a hero who never gave up the fight for truth and justice.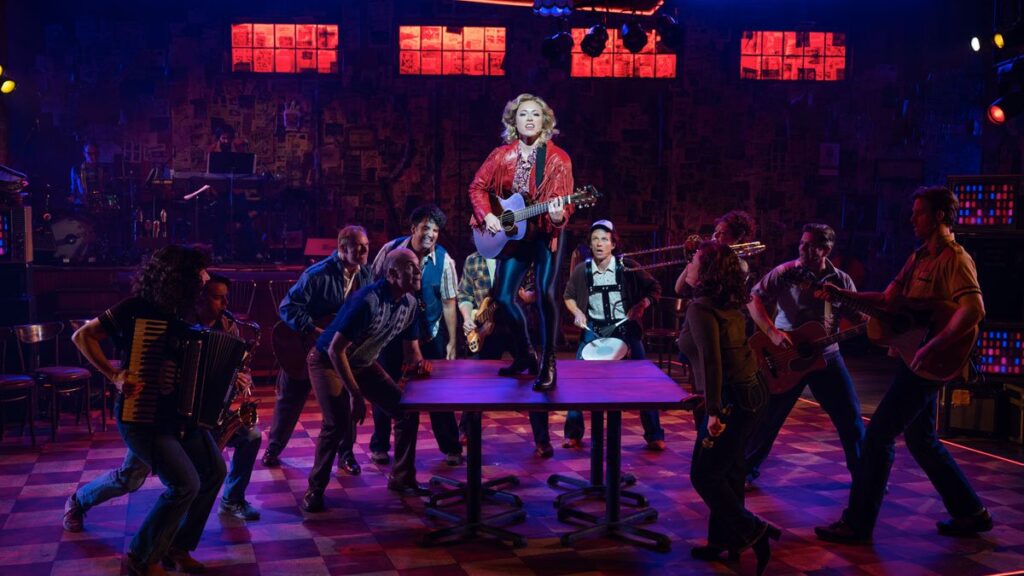 I think Run Bambi Run has a great show in it. Given an artful reckoning with its inner contradictions, and a bit of streamlining of its excess bulk, it could go far. Is it really good to have fun with such a fundamentally sad story? Does the show's carnivalesque approach celebrate its protagonist as a feminist martyr, or does it feed off the gawker mentality that dogged her entire life? This is a more interesting question than whether she "did it" or not. In the end, the viewer must be the judge.
The Milwaukee Rep presents
Run Bambi Run
A New Rock Musical
Book by Eric Simonson
Music and Lyrics by Gordon Gano
Directed by Mark Clements
playing through October 22
www.MilwaukeeRep.com