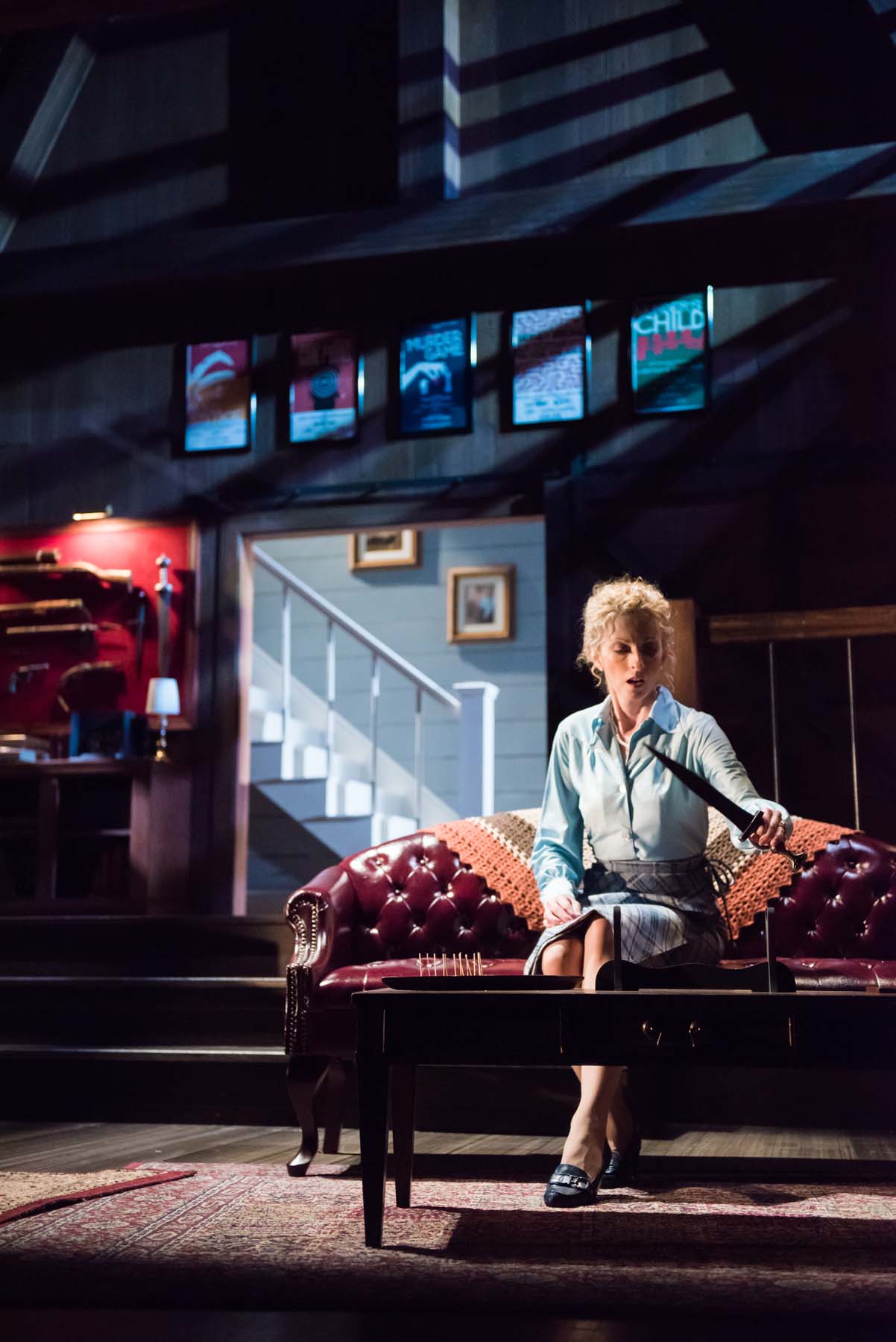 by Jeff Grygny
Opening night of Milwaukee Chamber Theatre's Deathtrap was quite glamorous, particularly for a forty-year-old play. Director Michael Cotey, one of the founders of the late, great Youngblood Theater, was in the lobby of the Cabot Theater in his signature flame-orange pants, meeting and greeting alongside MCT Artistic Director C. Michael Wright. The crowd, including many of the brightest luminaries of local theater, buzzed with anticipation.  It was pleasantly disorienting to hear the strains of classic rock chugging through the neo-baroque confines of the Cabot: all the pre-show music had the theme of crime and retribution—very popular in the late 70's, when the play started its record-setting Broadway run. After an upbeat welcome from Wright, the lights dimmed, the plush curtain opened, and we entered Deathtrap.
Everyone loves a good murder.  Dating back to the myth of Oedipus, philosophers have found in murder stories traces of the paradox of human consciousness (Who did it? could the guilty party possibly be . . . us?). From Poe through penny dreadfuls to classy PBS series, the whodunit has grown into a minor industry. Small wonder, then, that someone should contemplate killing for a share of the profits. Deathtrap is a devilishly clever extended riff on the tropes of the genre, with so many twists and feints, even the characters ask themselves "wouldn't this be great on the stage?" If you've never seen the show, or the film adaptation with Michael Caine and Christopher Reeve, this  series of shocking reveals will bring pleasantly ghastly gasps aplenty. Whatever you do, DO NOT READ THE WIKIPEDIA PAGE!!! And if you already know the play's secrets—well, then, you are an accessory to murder, and you better not sing until your fellow playgoers are too.
The play has taut suspense, surprise developments, and laughs in just the right places—just like the script for a play called Deathtrap, that Sydney Bruhl, a successful playwright of murder mysteries, gets in the mail from a former student. Fretting over his writer's block and tired of living off his wife Myra's family fortune, Bruhl jokingly— or so it seems—begins to speculate just how easy it would be to invite the young writer over, do him in, and claim the surefire script as his own. And the game is afoot.
MCT offers a lavish-looking production full of strong performers; as Sydney, Bill Watson is slightly larger than life; funny, over-dramatic (of course) and oddly likable, even when he's doing really awful things; Susan Spencer is sympathetic and credible as his loving wife.  Di'Monte Henning, as the young writer, brings poise and good humor, gaining in power as the plot (and the blood) congeals. Mary Kababik and David Sapiro round out the cast in a comic roles; Kababik's silly European psychic and Sapiro's Wonder Bread attorney both win plenty of well-deserved laughs, while supporting the play's "gotcha" mode.
The technical details are splendidly executed: Scenic Designer Arnel Sancianco's single-room set, dressed up as a barn refurbished into a spacious writer's studio,  offers abundant eye candy, with scores of deadly-looking weaponry, artfully arranged on red baize like the decor of a Klingon cocktail lounge. Grover Holloway's sound design tightens the suspense in an admirably minimalist way. Director Cotey keeps things moving with his characteristic sensitivity to rhythm, adding touches of expressive flair, but holding true to the play's primary mission: to entertain.
We may not learn much about the mysteries of consciousness from Deathtrap, but as an instrument for generating lurid thrills, from "uh-oh" to "holy crap," it's a perfect summer romp.
Milwaukee Chamber Theatre presents
Deathtrap
by Ira Levin
Playing through August 27
Broadway Theatre Center's Cabot Theatre,
158 N. Broadway
Tickets: 414-291-7800 | milwaukeechambertheatre.com