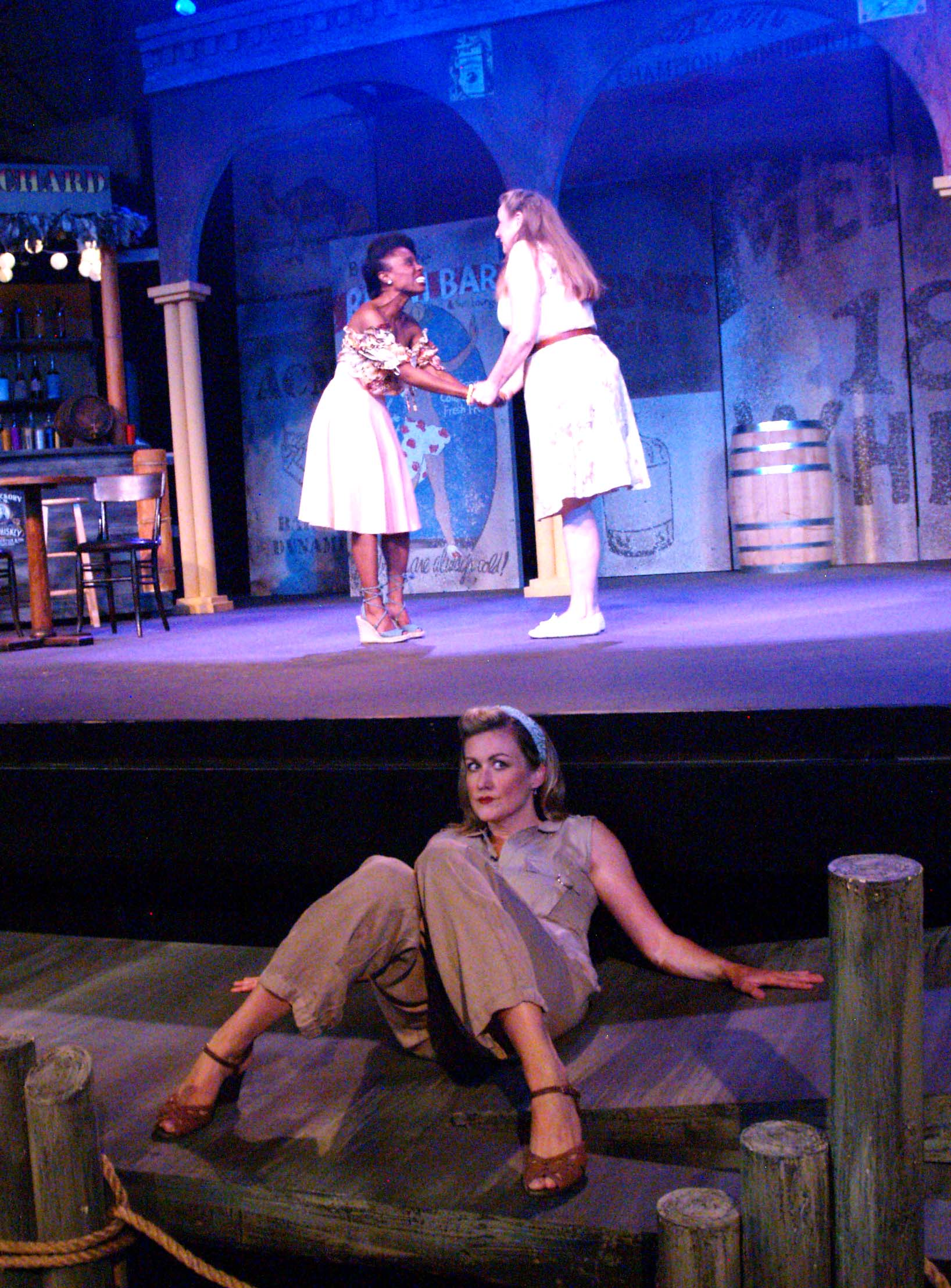 by Jeff Grygny
"Man is a giddy thing,' says Benedick near the end of Much Ado About Nothing, to explain his sudden reversal from committed bachelor to avid groom. There could be no better way, perhaps, to sum up the play, in which characters jump to conclusions based on slender evidence contrary to their hearts, and let themselves be easily manipulated both for good and ill. It's fashionable these days to note that the "nothing" of the title is a pun: being a near homophone for "noting", an Elizabethan slang for "overhearing." Much of the play's confusion comes from things overheard; an interesting comparison to today's social media chambers of reflections.
In Optimist Theatre's current offering of  "Free Shakespeare in the Park," now playing at its new location in the spacious and comfortable Peck Pavilion, Much Ado About Nothing is a stylish, accessible, and well-crafted production, with clear action and many lovely moments, ornamented with sparkling performances from gold-standard actors. Shakespeare newcomers might miss out on some of the wordplay, but they will always understand the relationships. Director Tom Reed, under the motto "Shakespeare for the People," concentrates on minimizing the distance between the characters and the audience. He's shifted the setting from Renaissance Italy to what appears to be Hawaii shortly after World War II, thus preserving both the patriarchal military culture (though the soldiers are all in civilian dress) and the frolicsome peacetime mood of the original. Palm trees, leis, slide guitar, and hula dancing all add up to a playful party atmosphere.
The ever-fraught struggles between woman and men provide the meat for this comic dish; Shakespeare's attitude, never simple, could maybe best be characterized by the phrase "Hey nonny nonny." It's the Elizabethan equivalent of "la dee da" —and also the refrain of the play's signature song, "Sigh No More," which gently counsels women to take a humorous attitude to men's perennial tendency to be jerks. This mood is most evident in the banter between Benedick and Beatrice, who, ably delivered by Todd Denning and Kelly Faulkner, seem quite aware of the high stakes of their verbal thrusts and parries—the  rhetorical equivalent of dueling atop a parapet. The formidably-bearded Denning gives Benedick a twinkling clownishness, notably when he's slinking around the margins of the stage like a Warner Brothers cartoon character. Faulkner's proudly trousered Beatrice shows a keener edge, especially in her "Oh, that I were a man" speech. When she finally embraces love, you can sense the many facets of her complex feelings. Plus, she pulls off the show's most genuine comic moment with her dismayed reaction to her friends' flaunting her private love poem.
Splendid performances overall highlight the show: we could wish for no more charming a couple than Di'Monte Henning and Candace Thomas as Claudio and Hero—though we wish the play gave them a bit more time together. Kat Wodke, as the maidservant Margaret, whom we are told (though we don't actually see it) inadvertently participates in the deception that  ruins her mistress' wedding,  pops up as a clear and resolute voice, while Emmitt Morgans delivers two strongly-defined characters as both the scheming Borachio and a problem-solving priest. Milwaukee Rep regulars will recognize two other familiar faces: Jonathan Wainwright gives the villainous Don John a surly charisma, channeling a bit of the edginess of Daniel Craig's James Bond. Though we don't know exactly what his beef with Claudio is, we can taste every acrid note of its emotional flavor. And James Pickering struts amusingly as the malapropic constable Dogberry. As pompous as he is self-deluded, with a sheriff's star decorating his hat and a chestful of medals, he might well remind Milwaukeeans of a certain infamous local lawman.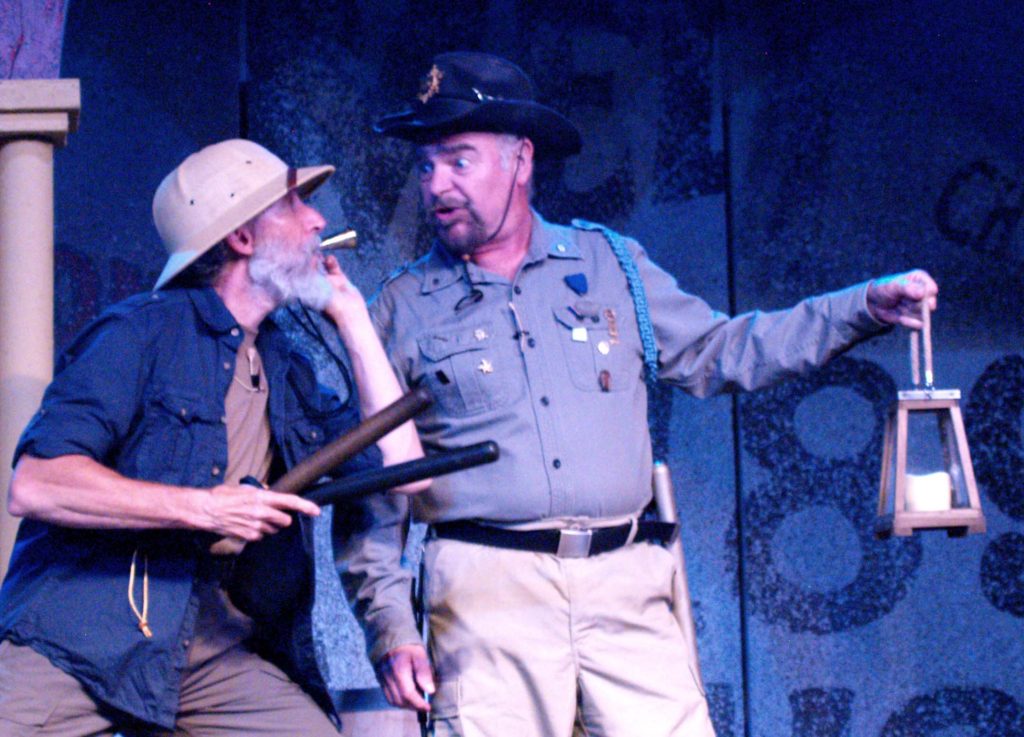 Through the indefatigable efforts of Ron and Susan Scott Fry, Shakespeare in the Park has a dandy new venue; music director Paul Therrien provides a musical setting full of island cadences; and choreographer Gennesee Spridco incorporates hula moves into a delightful group dance. On preview night, some of the actors had to struggle with the ambient sounds of traffic, motorcycles, and an intrusive HVAC duct inconveniently near the right side of the stage; happily, aided by clear diction and good amplification, they ultimately won the contest.
And as night surrounded us, this little world of an officer's island estate with its witty, silly denizens began to assume the outlines of reality. The most precious actor's art is to make us care; with these fine artists' help, we cared—enough to laugh, perhaps to sigh—and then go out into the world with "hey nonny nonny" in our hearts.
Optimist's Shakespeare in the Park presents
Much Ado About Nothing
by William Shakespeare

Running through July 22
Peck Pavilion of the Marcus Center for the Arts