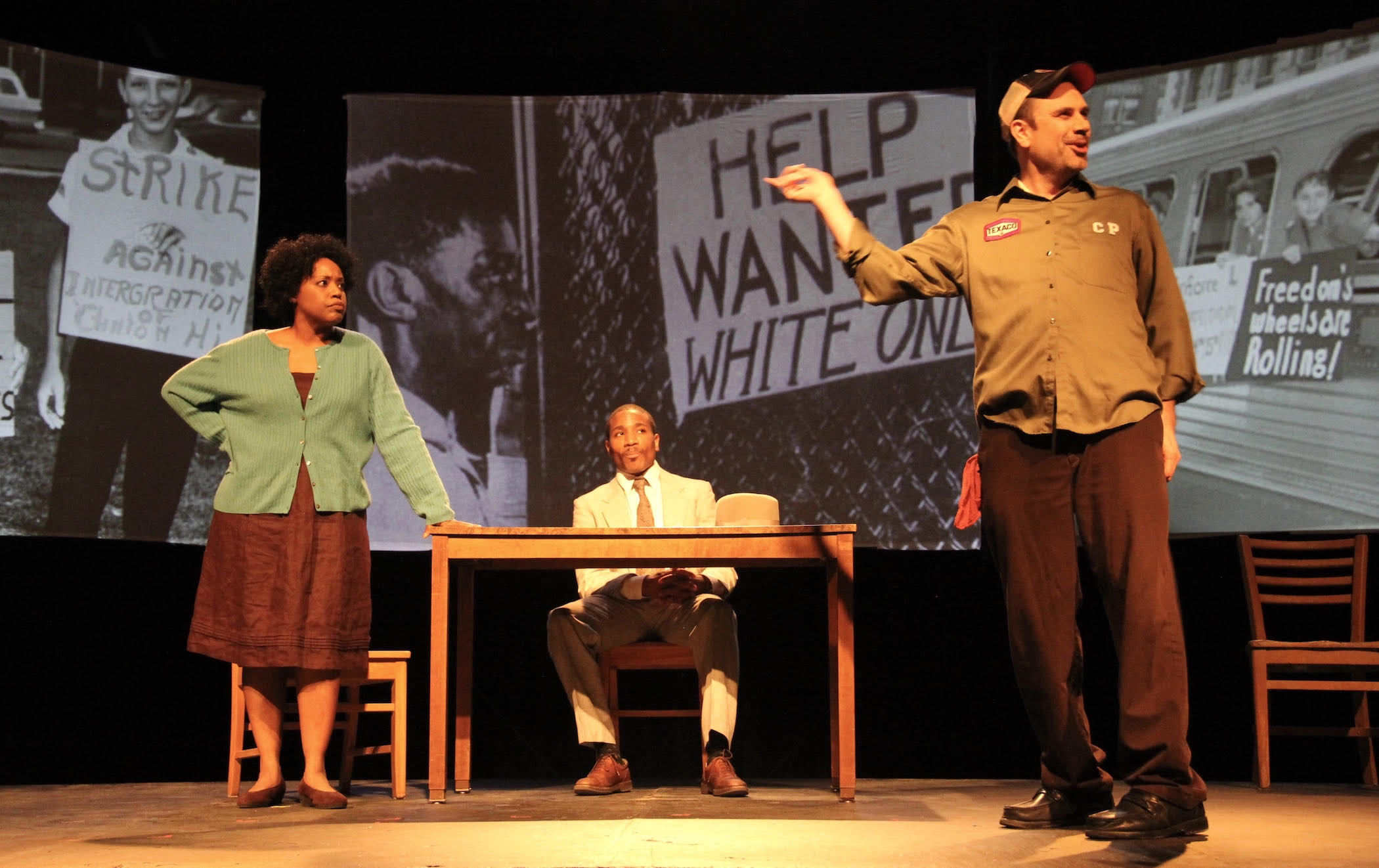 by Jeff Grygny
It's so easy to be uncomfortable around difference. "They" don't look like us; their speech is strange; they don't respect our ways. It's all too human to think that our own beloved family, our clan, our tribe, is the best. And when history and conflicting needs get involved, things can go very badly, as evident in ethnic violence all over the world: we can begin to see "them" as less than human—even demonic.
Best of Enemies, a play adapted by Mark Saint Germain from a book by Osha Gray Davidson, and now being offered by Acacia Theatre Company, tells a remarkable story about people who did the unexpected: they saw beyond their prejudices to make friends with the other. And if the story didn't actually happen, we'd never believe it. This gripping, respectful drama plays out the improbable friendship that evolved between two actual angry people: a black rights activist and a leader of the Ku Klux Klan.
The events upon which the story is based took place in Durham North Carolina in 1971, when a union-sponsored  program to discuss local schools brought together C.P. Ellis, the "Grand Cyclops" of the local Klan, and fiery activist Ann Atwater, who are invited to co-chair a "charrette:" a 10 day workshop to poll citizens on problems and vote on solutions. In the play, Ellis shows his hand immediately: in an address to his Klan brothers he relishes the recent assassination of "Martin Lucifer Coon."  Yes, the show faces offensive speech head-on; the first scenes are so raw, in fact, that we're very grateful for the jazz interludes of young  musician Kwasi Stampley's electric guitar, like sonic prayers cooling the heated atmosphere with the holy spirit of soothing peace.
In the role of Ellis, Ryan Schaufler captures the voice and mannerisms of the classic redneck, but his immovable bigotry is posed against the irresistible force of Lori Woodall as Ann Atwater, whose prickly humor seems quite authentic—and is often hilarious.  As the agent of their unlikely alliance, an organizer sent to conduct the charrette, Derrion Brown displays a hundred-dollar grin and an optimism that borders on angelic: when Ellis opens the first meeting with a noxious bigoted rant, Brown's character rubs his hands together and exclaims "This is great—people are speaking their minds!"  Rounding out the cast is Elaine Wyler as Ellis's long-suffering but still-loving wife, in a grounded, sympathetic characterization.
The play is written in short vignettes, playing out like panels of a daily comic strip—a format that suits well the dramatization of history, focusing on key incidents while keeping the story moving. Giving the play a distinct visual style are three large screens on which designer Dan Hummel projects a rotating series of black-and-white documentary photographs of the Civil Rights era: from crude posters reading "No coloreds, No dogs" to shots of protesters, hands linked in song, to group shots of happy white supremacists. Most disturbing are the images of fresh-faced white kids proudly displaying hateful messages (as Rodgers and Hammerstein wrote, "they have to be taught to hate and fear"). These constant powerful images can be distracting, but they also contribute constant powerful reminders of the historical context, the stakes involved, and the multitudes of real lives whose struggles these four characters enact. A dedicated chorus provides the show with incidental voices, adds to the sense of communities in motion, and supplies a couple of rousing gospel songs. All these production elements enrich and add dimensions to a script that could easily stand on its own.

Under the sensitive direction of Erin Eggers, each scene has its particular tone and rhythm, from the tense early confrontations, to wry humor as the organizer tries to cajole the enemies to sit at the same table; to a kind of physical comedy as the two warily work on a task together, leading to drama and intimacy as Ellis' family problems begin to chip away at his certainty. Shunned by his Klan bothers for working with "them," and defeated in the charrette's outcome, he makes a pathetic confession: "My time with the Klan was the best days of my life." They gave him community, security, validation. Shaufler lets us feel every bit of Ellis' anguish as he's forced to create a new identity. As in life, Ellis eventually becomes a union officer, even being elected spokesman for a predominantly black union. There, he offers the play's most pointed advice: in a moment worthy of Bernie Sanders, he tells them "As long as we're fighting against each other, the rich people can go ahead and do whatever they want."
Best of Enemies is not just a powerful drama: it's a demonstration of what is humanly possible, even in our own fragmented era. "Identities" (the current fashionable term for our various cultural allegiances) are written in flesh, not graven in stone. Given the right circumstances, hardened prejudices and rigid thought-patterns can soften and give way to real communication between people. We can realize that we are all human— if we have the courage, compassion , and wisdom to listen to each other. The heroes of this play show us a way out, no matter where we start from.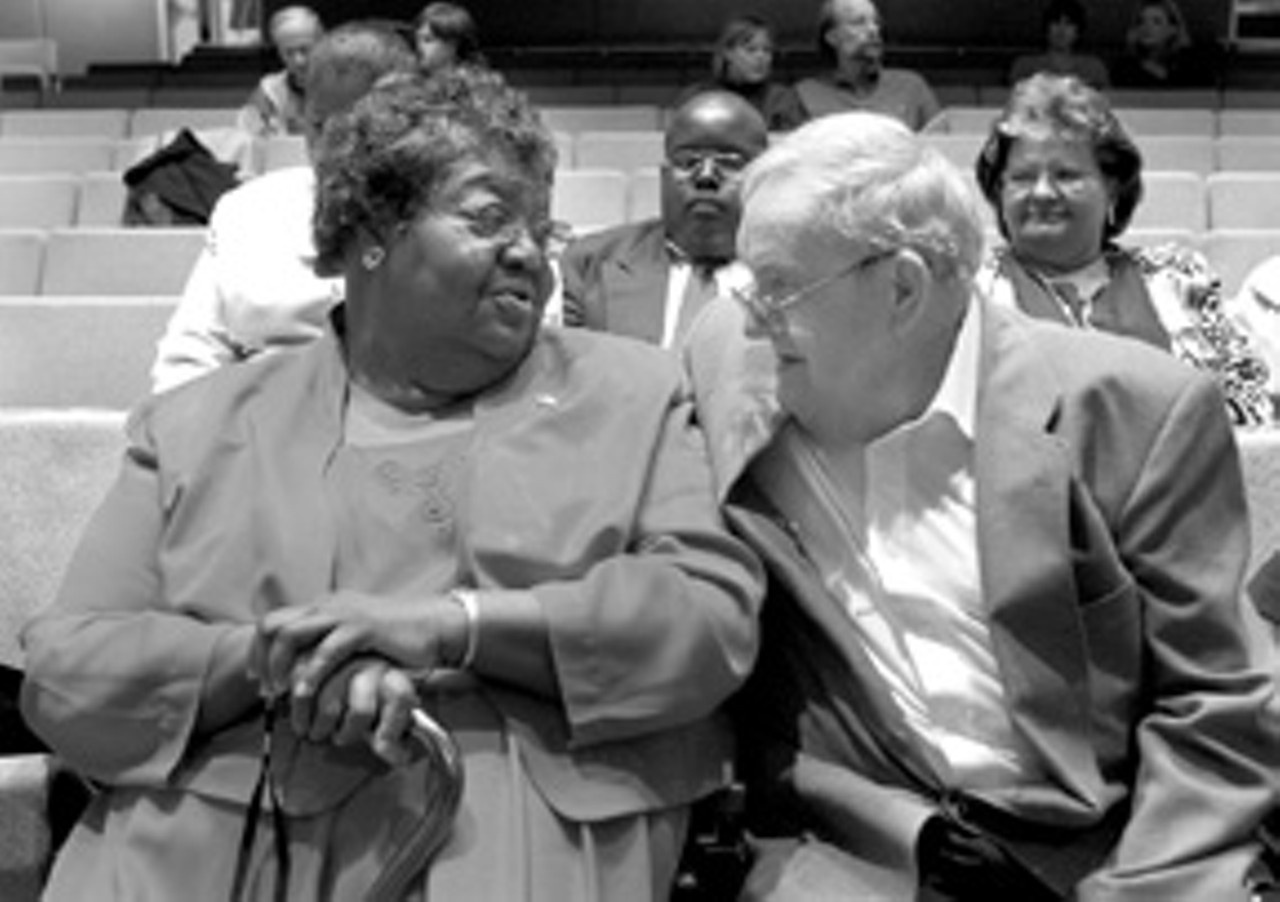 Acacia Theatre Company presents
Best of Enemies
by Mark Saint Germain
Based on the book The Best of Enemies by Osha Gray Davidson
Playing through March 26
Concordia University
Todd Wehr Auditorium
12800 North Lake Shore Drive, Mequon
Tickets $16 for adults
$13 for seniors, full-time students, and full-time clergy
(414) 744-5995
www.acaciatheatre.com.