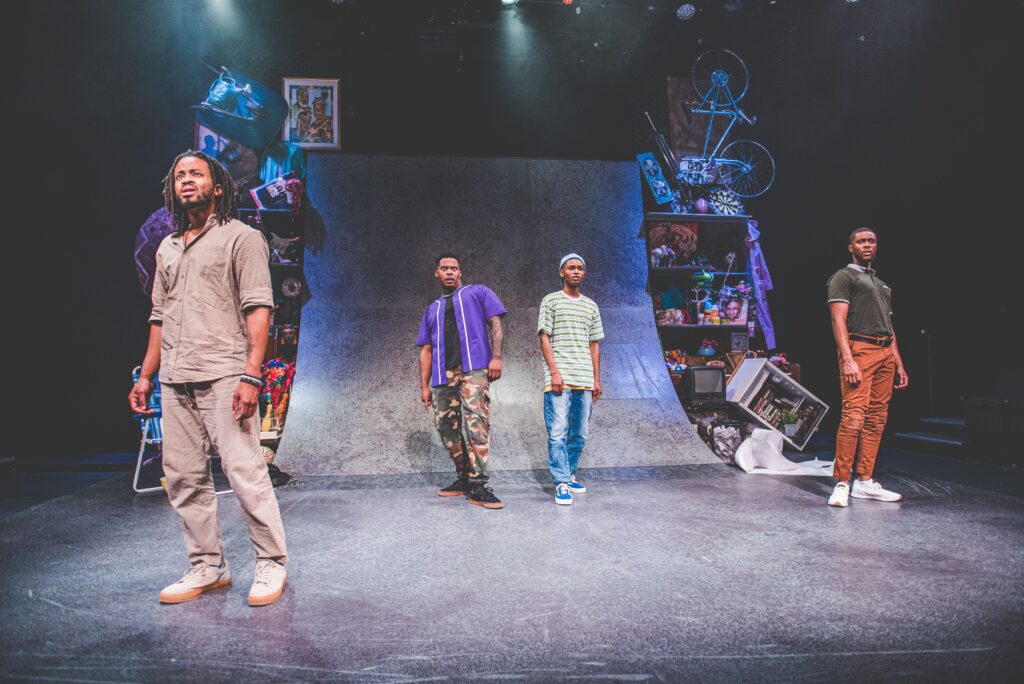 by Jeff Grygny
Early in the play, one character asks another if they're in an episode of The Twilight Zone. And for good reason. The situation in which they find themselves is very much like one of Rod Serling's surreal morality plays—though it could just as easily be the existential classics No Exit or Waiting for Godot. The play is James Ijames' Kill Move Paradise, now playing in a tight, propulsive production at Next Act Theatre. Ijames won the Pulitzer Prize in Theater for Fat Ham, a comedy that casts Hamlet as an overweight gay Black man living in the American South—and if it's anything like Kill Move Paradise, it's a play that manages to be both light and serious, navigating difficult topics with sly allusion rather than analysis, transforming hopelessness into a kind of celebration.
The characters, all Black men, plummet onto a bare stage on a kind of metal chute on which they periodically and unsuccessfully try to escape like ants trapped in a sink. Convulsing and crying out on arrival in a kind of birth agony, the actors hold nothing back, fearless at their most vulnerable. Over the course of ninety taut minutes, they try to come to grips with where they've been and where they're going, their only guidance the gnomic instructions produced by an old-fashioned computer printer. They explore, argue, rage, grieve, and comment ironically about the silent people who sit watching them. "Are you scared?" they ask the audience several times. Ijames cleverly casts us a sort of supernal witnesses to this limbo state; occasional bursts of blue light make us very visible, and the actors harvest comedy by gently transgressing the fourth wall.
Director Marti Gobel masterfully conducts an organic composition of moments and moods, from animalistic howling to tense extended silences, each movement seeming to expand like a bubble in space-time, growing to full size before popping into the next. The action kaleidoscopically shifts through a variety of vocal and kinetic modes, from naturalistic to lyrical, expressionist to ceremonial, including passages of abstract movement that seem to embody a symbolic dimension.
The four actors give virtuosic performances, vocally, physically, and emotionally. Marques Causey as Issa, the first person we meet suspended in a flash of white light, acts as a kind of master of ceremonies with a grave yet twinkling sense of irony. Grif, a soft boy from a broken family, is delivered feelingly by Ibraheem Farmer, While Dimonte Henning plays Daz, the most volatile arrival, with raw intensity. Joseph Brown Junior plays the last, a boy called Tiny, with confidence and charm. The four men develop a warm sense of brotherhood during the condensed duration of the afterlife. Much is unsaid, communicated in their body language, their choices, and the relationships they create with each other, weaving a complex skein of meaning. At the end, the play takes a spiritual turn, through an improbable juxtaposition of bible verses and sitcom theme songs. Tiny leads everyone in a street game that turns into a mythic adventure/ psychodrama, that becomes an ecstatic ceremony of release, and Issa, it seems, might be someone we've heard a lot about before.
The Black Lives Matter movement was created in 2012 in response to the murder of Trayvon Martin. Kill Move Paradise was first presented in Chicago in 2016, four years before the murder of George Floyd by police officers ignited a national movement that inflamed passions and controversy, and whose legacy remains ambiguous to this day. Kill Move Paradise is a theatrical tour-de-force that sidesteps rhetoric to reveal something more essential: the beating hearts of four men in all their humanity. It gives us hope that, as the arts keep exploring diversity, we will keep evolving new ways to connect, relate, and create a new society.
Next Act Theatre presents
Kill Move Paradise
by James Ijames
playing through October 16th