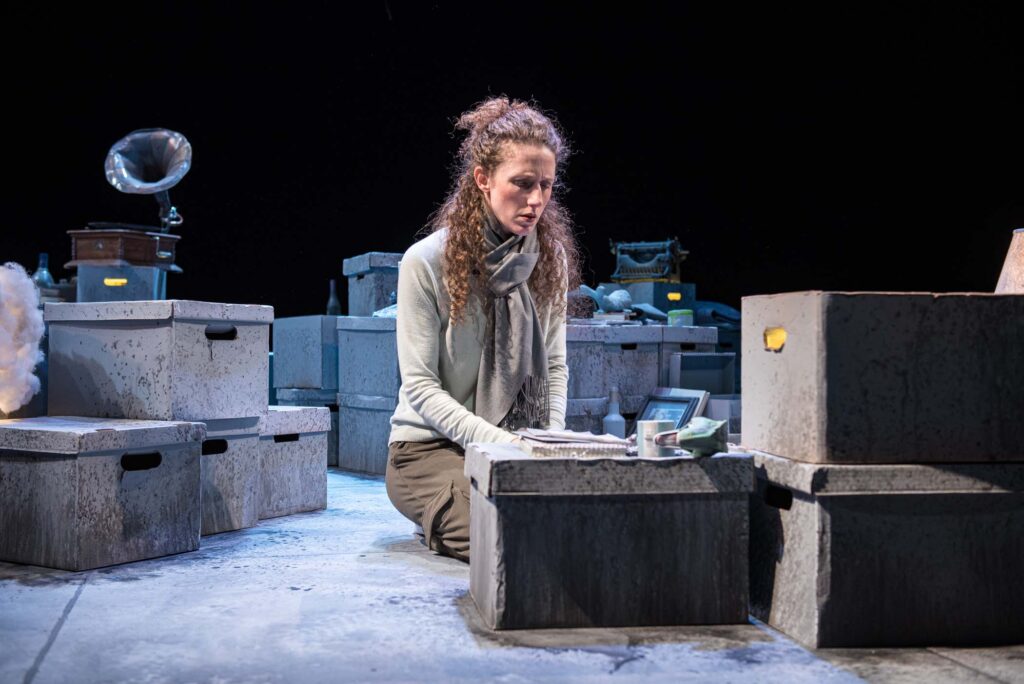 by Jeff Grygny
We never learn her name; she's called "The Detective." She wanders, bemused, amid piles of grey cardboard banker boxes littered with household detritus, including an antique telephone, a hand-cranked Victrola, and an ancient typewriter, enshrined like holy relics of the Industrial Revolution. "I didn't always live like this," she confesses. Thus begins Tidy, a brand-new play by Kristin Idaszak, in a production by Renaissance Theaterworks, produced as part of the World Premiere Wisconsin initiative. We'll spend the next eighty-five minutes in this room with The Detective in a state of mounting unease, as the play gradually veers, as if pulled by implacable geologic forces, from contemplative musings into the realms of conspiracy, dystopia, and apocalypse.
Idaszak deftly spins a dense web of genres: social satire, hard-boiled mystery, domestic drama, memory play, psychological thriller, even a touch of prop comedy. The surreal setting is reminiscent of Beckett's Theatre of the Absurd,. The play's scientific/political themes echo the novels of J.G. Ballard, while its steady drip of sinister revelations might be out of a film by M. Night Shyamalan. Our protagonist is simply trying to clear her apartment of clutter, using the principle of feeling whether a possession sparks joy, and if not, thanking it and saying goodbye. As she goes along, reminiscing over the various tchotchkes she and her wife have collected, we learn that her wife—coincidentally named "Joy"— is a geologist who specializes in mass extinctions, and that her research is for some reason both classified and gives her certain privileges. We learn about the six mass extinctions in Earth's history, with the last being the Anthropocene, which we are living in now.
The Detective's most poignant memories come from her childhood on her parent's farm, where she named all the trees on the land and loved especially one grand tree. When we hear of month-long tornadoes, of abandoned buildings and relocation centers, of how meat and vegetables have been replaced by synthetic food, it becomes apparent that this world of "next year" is very different from ours. This is a very effective way to tell a big story in the most cramped of settings, and if it seems a bit didactic at times, it still leaves us greatly unsettled— which is most certainly the playwright's intent.
Director Elizabeth Margolius and an inspired crew of artists work hard to vary the tones and rhythms of what is basically a long monologue. Cassandra Bissell brings great warmth, humor, and pathos to a character slowly recognizing just how bad a situation she's in. As she goes about her tidying mission, her "thank you"s begin to turn into "I'm sorry"s as she realizes just how much she has to let go. (This is especially heartbreaking for those of us who can still remember a world with more butterflies, temperate seasons, and open land.)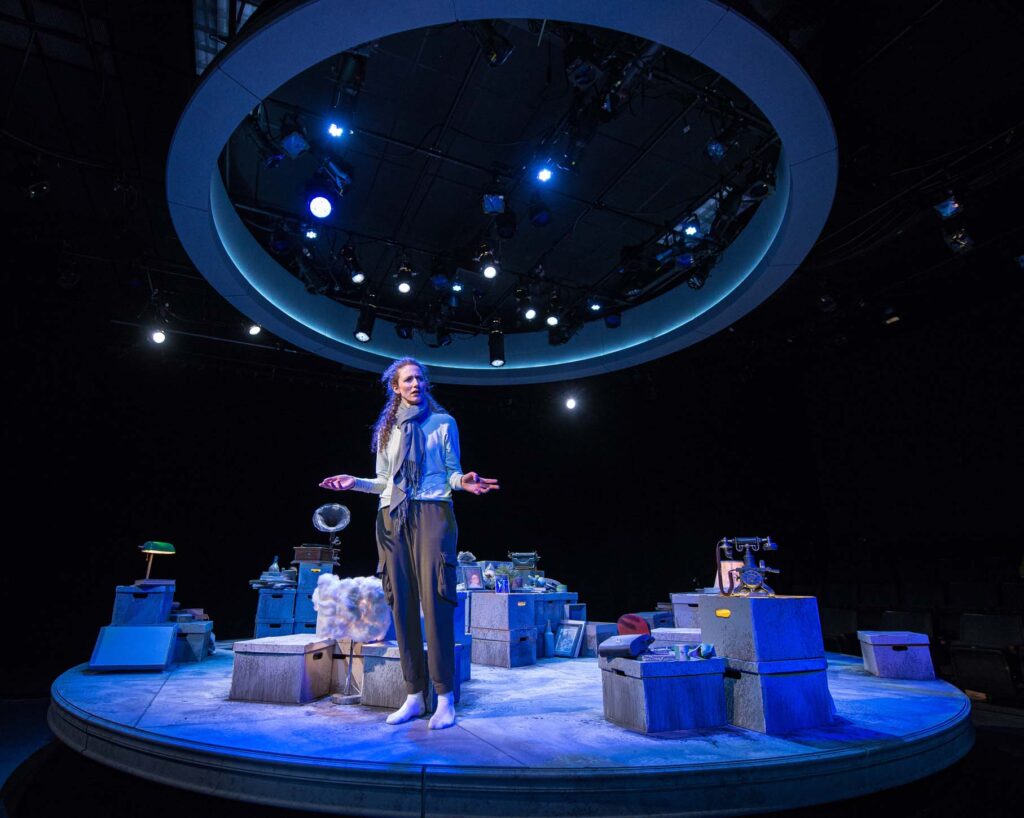 Special praise is due to the design team who created this dreamscape: Scenic Designer Jeffrey D. Kmiec and Lighting Designer Noele Stollmack, who realize a dynamic sculptural environment that becomes a second character; also Christopher Kriz's sound design, that sensitively captures the range of emotional tones, from elegiac to menacing, and Yeaji Kim's video projections, that wash over the stage like memories, plus a stunning final image that overpoweringly conveys the sense of a world split open to reveal an awesome and terrible reality. (Most of these artists, along with the Director and Playwright, are based in Chicago—make of that what you will.)
Generally, contemporary artists seem to struggle with our ecological crisis. Scientific data and creative expression don't often exactly sing together, and the modern ideal of art is to interrogate and deconstruct, rather than to offer answers. Idaszak leaves The Detective's fate ambiguous. We're not even sure if her world is real or a paranoiac fantasy. By so doing, the Playwright plays both to people who accept climate science and those who feel it's overblown or all a conspiracy. But whether or not this play will convince any climate skeptics, it's an effective warning: a flashing red light signifying that, as Greta Thunberg urged us, we really must "change everything" about the way we live. This is a great place to start.
Personally, I'd like to imagine that The Detective is reunited with her Joy, who arrives to take her out of her materialist cocoon to a refuge where people are beginning the great adventure of creating a culture that works, not to conquer nature, but to cooperate with it. Now that would be something to see.
Renaissance Theaterworks presents
Tidy
by Kristin Idaszak
playing through April 16
https://www.r-t-w.com/shows/tidy/
If you'd like to contribute to international climate change activism, you could visit avaaz.org
For an innovative approach to bringing the performing arts to our relationship with the natural world, see:
Adventures in the Deep World: A Report on The Performance Ecology Project