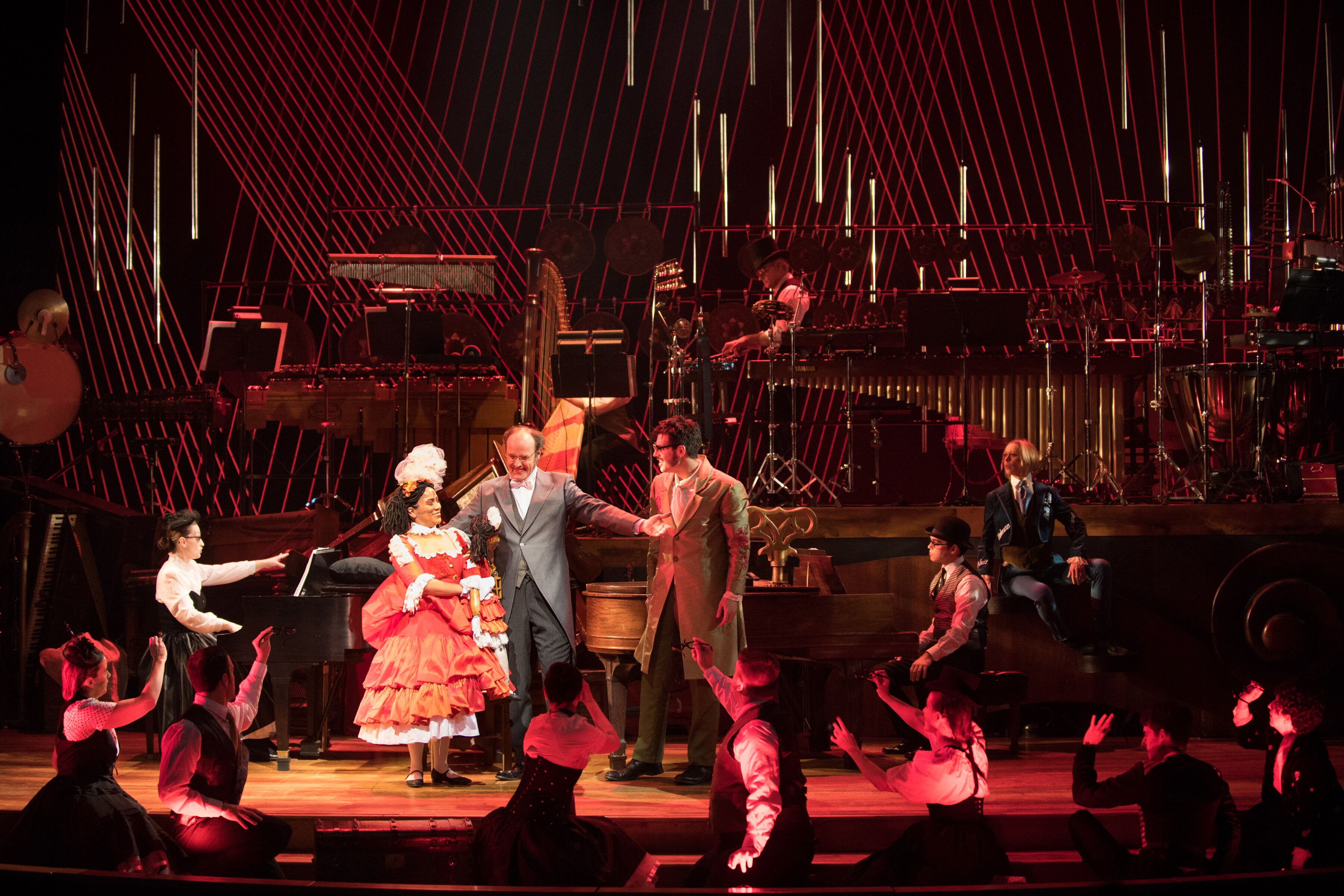 by Jeff Grygny
The agony of frustrated love isn't as popular a theme of art these days as it was in the 19th Century, but it's probably still a thing. Love—and losing it—gnaws at the heart of The Tales of Hoffmann, now playing in a newly translated, nipped, and tucked interpretation by Skylight Music Theatre working in collaboration with the ever-game Milwaukee Opera Theatre. But this weird opera, based on the even weirder stories of E. T. A. Hoffman, takes love as the starting point for journeys into a twilight world where science and magic dance with specters from the subconscious mind of the early modern age.
Hoffman's proto-surrealistic imagery of eyeballs, mirrors, doubles, mechanical girls, and dark sorcerers has been analyzed down to the atomic level by such theorists as the post-Freudian semiotician Jaques Lacan, to rattle the foundations of our commonsense notions of self and reality. You won't sense much of that bottomless abyss in this production— but director Jill Anna Ponasik and her creative team have embraced the weirdness to create a wild ride that does everything short of throwing Mardi Gras beads around your neck to show you a good time. While there's much to please opera lovers here, it also succeeds in not making non-fans want to run for the exits. It's an opera with the over-the-top theatrics of a rock concert, and a party vibe that Lady Gaga would love.
The show is a total theatrical work: words, music, acting, costumes, scenery and lighting all contributing to the stylish spectacle. Librettist Michael Carré has trimmed the show from three hours to two with two fifteen-minute intermissions; the framing story has been abridged, and long recitatives condensed to spoken dialog. The English translation is accessible and for the most part very understandable as sung. And they tacked on a happier ending. Music director Kerry Bieneman has moved the heavens to condense the score from full orchestra to a very interesting and satisfying two pianos, a harp, and a multi-percussionist, which, combined with the wonderful voices of the dozen or so singers, creates a rich, full sound that, except for the harp, which sometimes seems overpowered, never leaves you wanting more. A top-hatted Michael "Ding" Lorenz roves over a platform above the stage playing everything from kettledrums to noisemakers, creating moods from dreamy to nightmarish; his vibraphone is particularly haunting.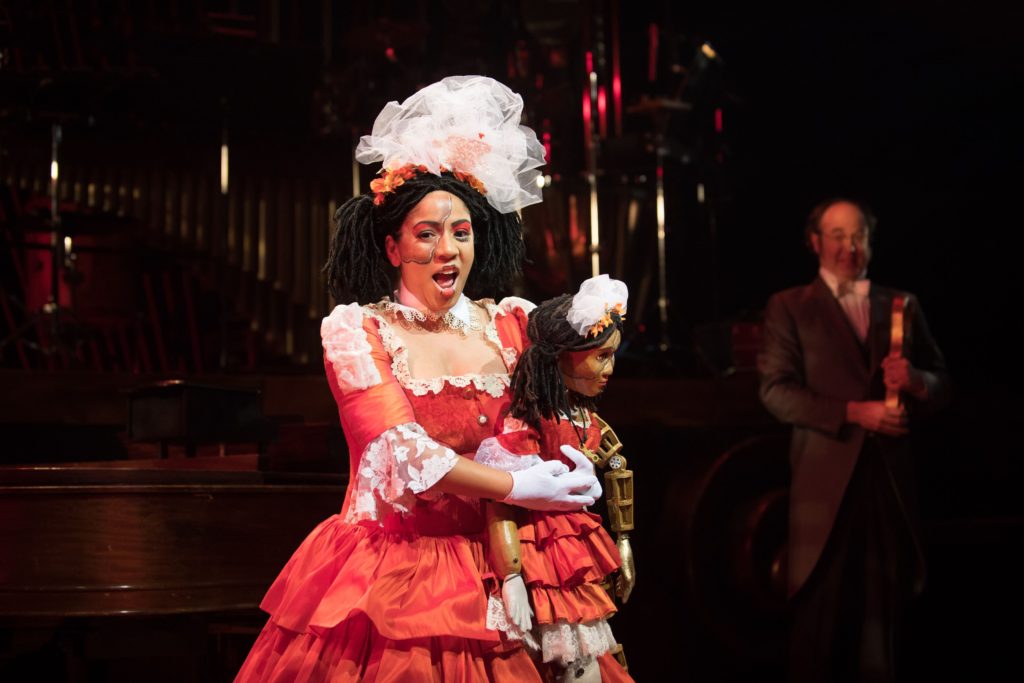 This is opera, so the plot makes little sense, and the characters are one-dimensional. Why are the evil magicians intent on wrecking Hoffman's love life? Who knows? Story and character are servants to the nonlinear logic of music. Maybe that's why Lisa Anne Schlenker's impressive set design, spectacularly illuminated by Jason Fassl, incorporates a stage-spanning piano harp and a giant cello scroll, while movable set pieces kluge musical instruments with steampunk machines. Sonya Berlovitz's costumes are a feast for the eyes, and sometimes further the story, as when glittery masks stand for the mirror into which Hoffman loses his soul.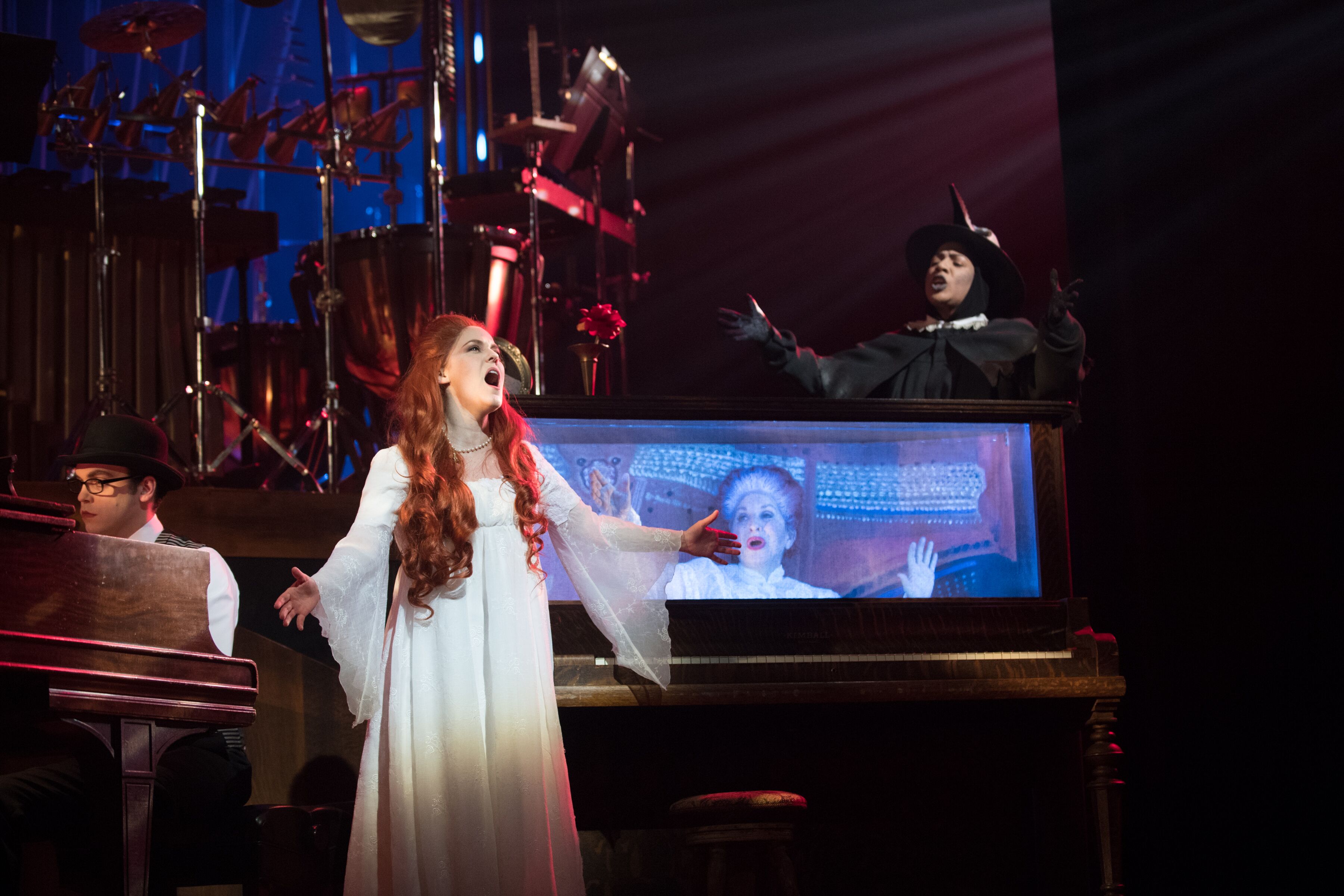 Ponasik makes one particularly  interesting choice: to replace the "dark father "bass-baritone villains with the same sopranos who played Hoffman's erstwhile lovers in other acts. This brings a whiff of #metoo to the proceedings, without getting too picky about the details. It also makes for a fabulous trio in one of the most uncanny scenes, when the sorcerer Dapertutto summons the ghost of Antonia's mother in order to get her to sing (which, as she is consumptive, will kill her). In a nifty bit of stage magic, the ghost appears to be inside an upright piano, though how exactly they accomplished this is a mystery. Might this gender-swap have altered the story's Freudian calculus, making possible the happy ending where Hofffman's faithful muse (his feminine psyche?) persuades him to channel his grief into creativity?  Hurrah!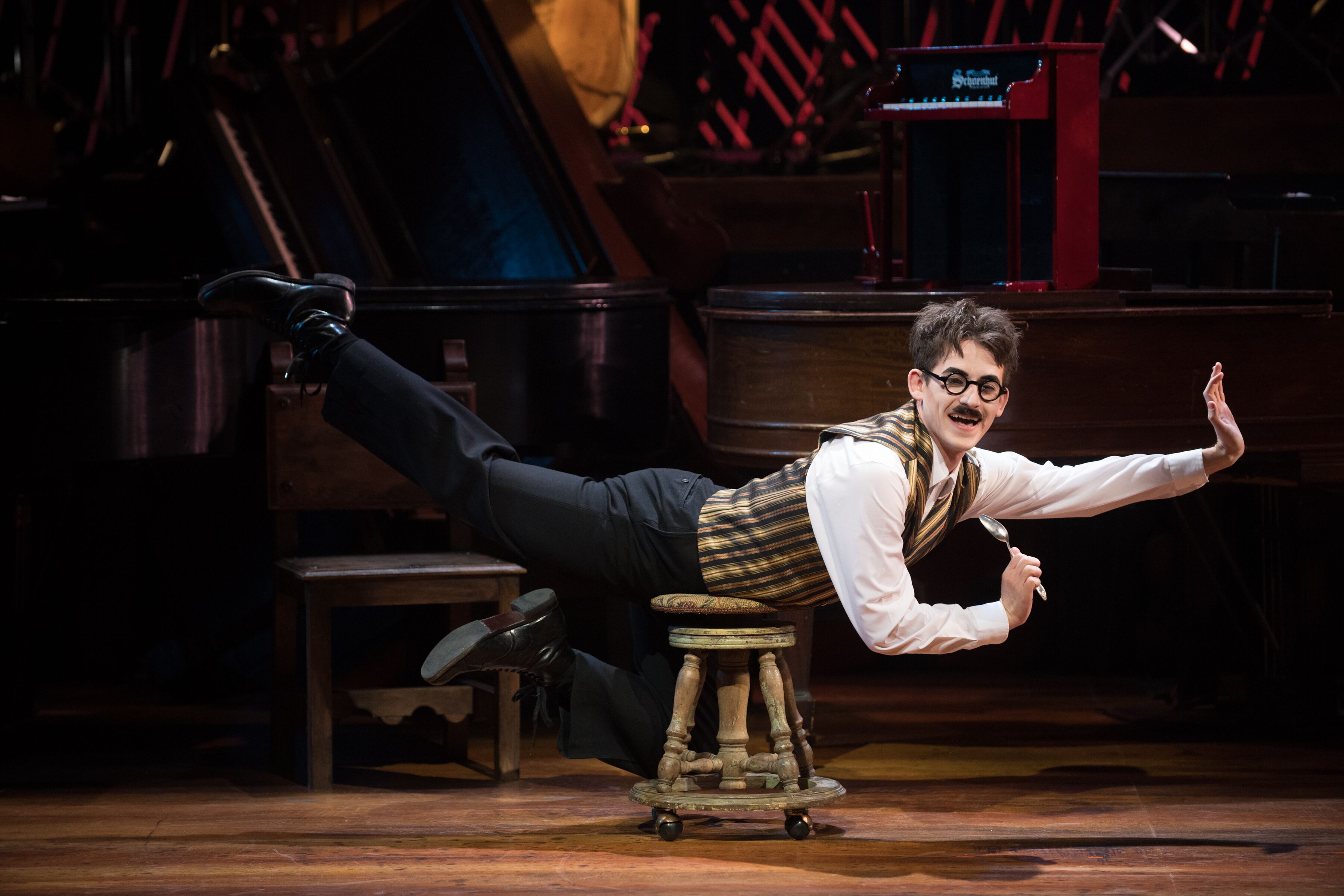 From Jean Broekhuizen's goof on divas in her humorous introduction song, it's clear that these skilled artists aren't taking themselves too seriously. As befits an opéra-comique,the acting  is often broad and cartoonish. Choreographer James Zager, who has worked with MOT before, does a marvelous job getting the singers to perform with their entire bodies, eliciting quirky and energetic character movements, like Cecilia Davis' doll-like stiffness, and Brett Sweeney's star turn as a frisky servant that is a little comic gem. This is as much movement theater as it is opera, tastily combining 19th-century melodrama, Spongebob Squarepants, and the Marx Brothers.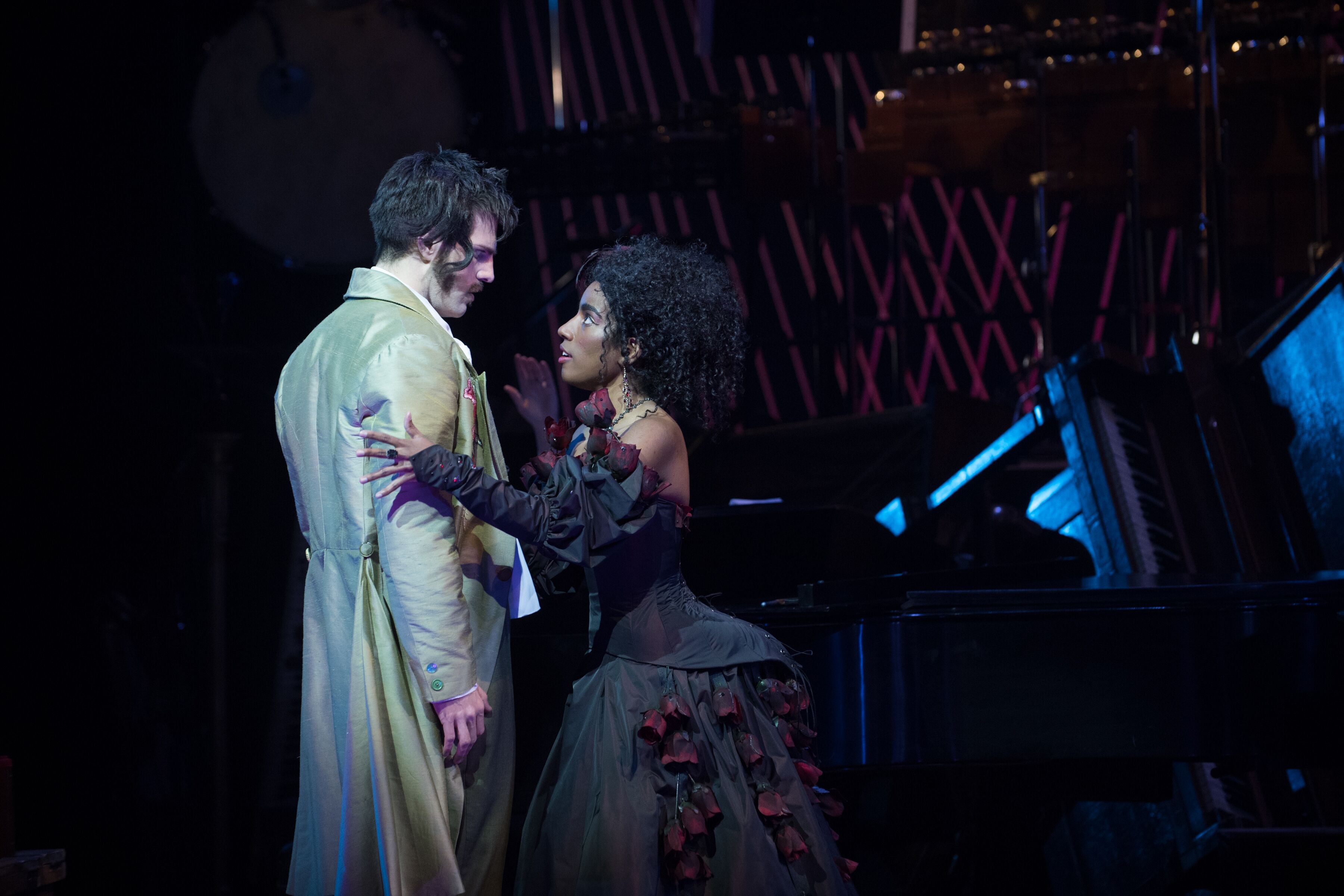 John Kaneklides plays the hapless poet Hoffmann like any angsty hipster artist with odd hair. The acts mostly conclude with him collapsing on the floor in Romantic despair (as one does). He rather creepily falls in love with Davis's Olympia while she is apparently unconscious, then pursues her despite it being obvious to all that she's a wind-up robot. Ah, love. Davis also wins the "best evil laugh" prize in a second role as the wicked Doctor Miracle; a sinister shaman out of a Neal Gaiman story. While Ariana Douglas, with crepe hair eyebrows as the "eyeball-maker" Coppelius, comes off as a bit like a kid in a Halloween costume, she utterly rules with subtlety and charm in the role of the courtesan Giulietta, showing how, with vulnerability and ambiguity, a woman can lead a man to unwise actions.
Though a light, fun entertainment, The Tales of Hoffmann exhibits unexpected depths. Not only does this production re-tune the dusty  classic for contemporary tastes, it has great fun doing it. Brava!
Skylight Music Theatre
in association with Milwaukee Opera Theatre
presents
The Tales of Hoffmann
composed by Jacques Offenbach
Playing through March 29
at the Broadway Theatre Center's Cabot Theatre
http://www.skylightmusictheatre.org/shows-events/on-stage/tales-of-hoffmann