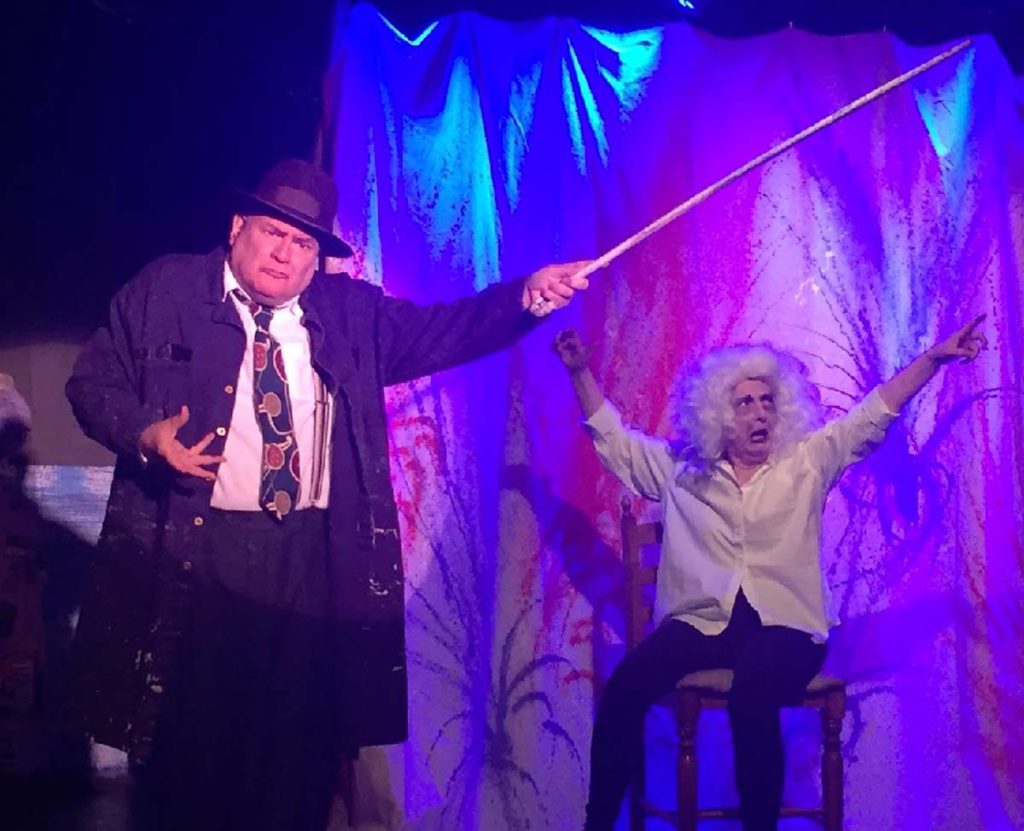 by Jeff Grygny
So, a washed-up celebrity gets reanimated by a shady operator. Underlings rush madly to cover for their drooling, flesh-eating boss as chaos spirals towards doom. Does this sound at all familiar? No, it's actually the plot of Zombies on Broadway, a new musical comedy now playing at Off the Wall Theatre. Impresario Dale Gutzman, who wrote the book and lyrics, returns to one of his favorite playgrounds: corny B films, just in time to ride the backwash of The Walking Dead and the coattails of Jim Jarmuschs' new spoof The Dead Don't Die. This show is an intentionally bad movie with it's own sarcastic running commentary; a dark existential comedy perfect for summer fun in these days of national strum und drang. There isn't a serious bone in this musical's decaying body, and nothing escapes its campy ridicule. Show biz egos, gay panic, backstage rivalry, sexual harassment, dementia, cannibalism and God him(or her)self—it's all gristle for Gutzman's satirical meat grinder. Of all Off the Wall shows, this might be the off-the-walliest.
We know immediately what to expect when aging diva Dottie Lotrine (pause for canned laughter) sings the opening number, a jaunty ditty delivered in the timbre of a parrot choking on a cracker: "The Show Goes On Until Your Dead" —and then drops dead. The desperate and none-too-bright producers call on the expertise of none other than Carl Denham, the genius who shipped King Kong in to devastate downtown Manhattan. Denham, it seems has learned the secret of turning corpses into zombies from the witch doctors of Skull Island, and before you can say "Hungadunga, Hungadunga, Hungadunga, Hungadunga and McCormack," she's back, if not quite ready for Broadway. Workmanlike music and lyrics by Gutzman and Chris Holoyda (creator of the legendary Lobotomy: The Musical!) keep the show moving from sight gag to double entendre to comic misunderstanding while giving various characters their soul-baring moments in the spotlight. It's irresistible to read the show as a metaphor for The Current Administration (after all Denham is a seedy, Bannon-like fixer who let a giant gorilla loose in America). But there are too many loose ends to make the analogy fit; the playwright admits that the show has "absolutely no redeeming qualities."
But if you come for the zombies, you stay for the performances, which the players carry off with surprising dedication and panache. Larry Lukasavage plays a sleazy investor with silken menace; Teddi Gardner is suitably feckless as a dance captain named Dick (the name that launched a thousand snickers). Mark Neufang brings pitch-perfect poise to the role of a gay supporting actor, and as the star-crossed star Dottie, Michelle Wade gamely grimaces and groans with the best of them. Jenny Kosek commits to her innocent ingenue character with a hint of a wink, and Gutzman chews scenery, chants mumbo-jumbo, and brings a pathos worthy of an Arthur Miller character to the part of Denham.
Only Off the Wall Theatre has the guts to stage such a perfectly tasteless spectacle—and those guts are on prominent display before the carnage is over. As an audience member was overheard saying after Friday's show: "We went somewhere."
Off The Wall Theatre presents
Zombies On Broadway
Music by Chris Holoyda
Book and Lyrics by Dale Gutzman
playing through June 30
https://www.offthewallmke.com/zombies-on-broadway.html#/
Want to get updates every time a new review is posted? Send an email to [email protected] or visit the SUBSCRIBE page