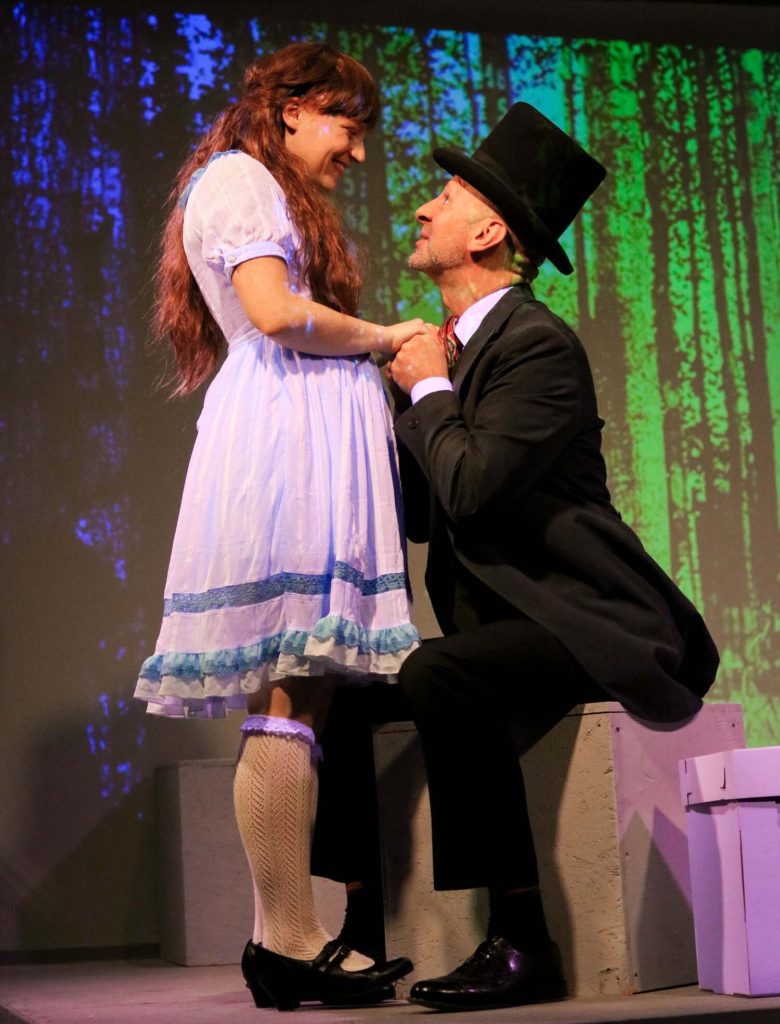 by Jeff Grygny
Have you ever longed for a place where you could be your real self, free of society's rules and  definitions of who you're supposed to be? Welcome to The Nether, Jennifer Haley's amazing, frighteningly smart play (whose three-week run was sadly cut short by the pangolin plague). And while we might have all kinds of fantasies of freedom from rules, Haley digs into what exactly that might mean—in the process uncovering a whole worm's nest of squirming quandaries involving our bodies, our identities, and our technology.
If there is a single word for this play, it has two syllables: the first is "mind" and the second rhymes with "luck." Haley has written for the techno-creepy TV series Dark Mirror, and it's evident, both in the story's subject matter and in the efficient movement of character and narrative that consistently shows, but doesn't tell, its themes. There are so many ideas here, you might have had the repeated sensation of your brain ballooning into space with each gobsmacking realization, right up to the surprisingly poignant final scene.
Director Jaimelyn Gray conducts a skilled cast in a tight, disciplined chamber piece, exquisitely paced and rich with contradictory emotions laid out for our delectation. Mr. Sims (nod to the online role-play game clearly intended), is the "host" of a very exclusive corner of 'The Nether," a sensory-immersive virtual world where you can appear as any avatar you can imagine. This place is a tidy reproduction of a Victorian manor, its "clients" strictly regulated to conform to the dress and manners of the time. It's charming—but why are there so many children, and why are they so friendly and complaisant? And what is that bloody axe doing in the bedroom?
The plot unfolds like a procedural, shuttling between the Nether and an interrogation room of the Nether's regulatory division. As an agent investigating Sims, Maya Danks is like a charged coiled wire; a dangerous and powerful foil for Sims, as played with righteous authority by Robert W.C. Kennedy. Their intellectual thrust-and-riposte provides much of the play's electricity. Within the Nether, where Sims goes by the handle "Papa," we meet one of his girls, a complicated entity called Iris, in a fearless, subtle performance by Rebekah Farr.
This chilling scenario plays out so many problems surrounding digital media, it could be the basis for a college course on the ethics of technology: game addiction, catfishing, porn, escapism, alienation, the dilemmas of regulating online behavior. Beyond that, what is identity anyway, if it can become unmoored from flesh? Reality in this indeterminate future world does not seem to be a very nice place; characters fleetingly express their nostalgia for trees, and there's reference to the practice of  "fading:" hooking up your body to life support and vanishing entirely into virtual reality.
The Nether poses hard problems, but ultimately, like all good dystopian fiction, it asks us to think about the world we're headed to. Is reality so unappealing that so many people are desperate to get away from it?
The Constructivists present
The Nether
by Jennifer Haley
Alas, this production is now closed