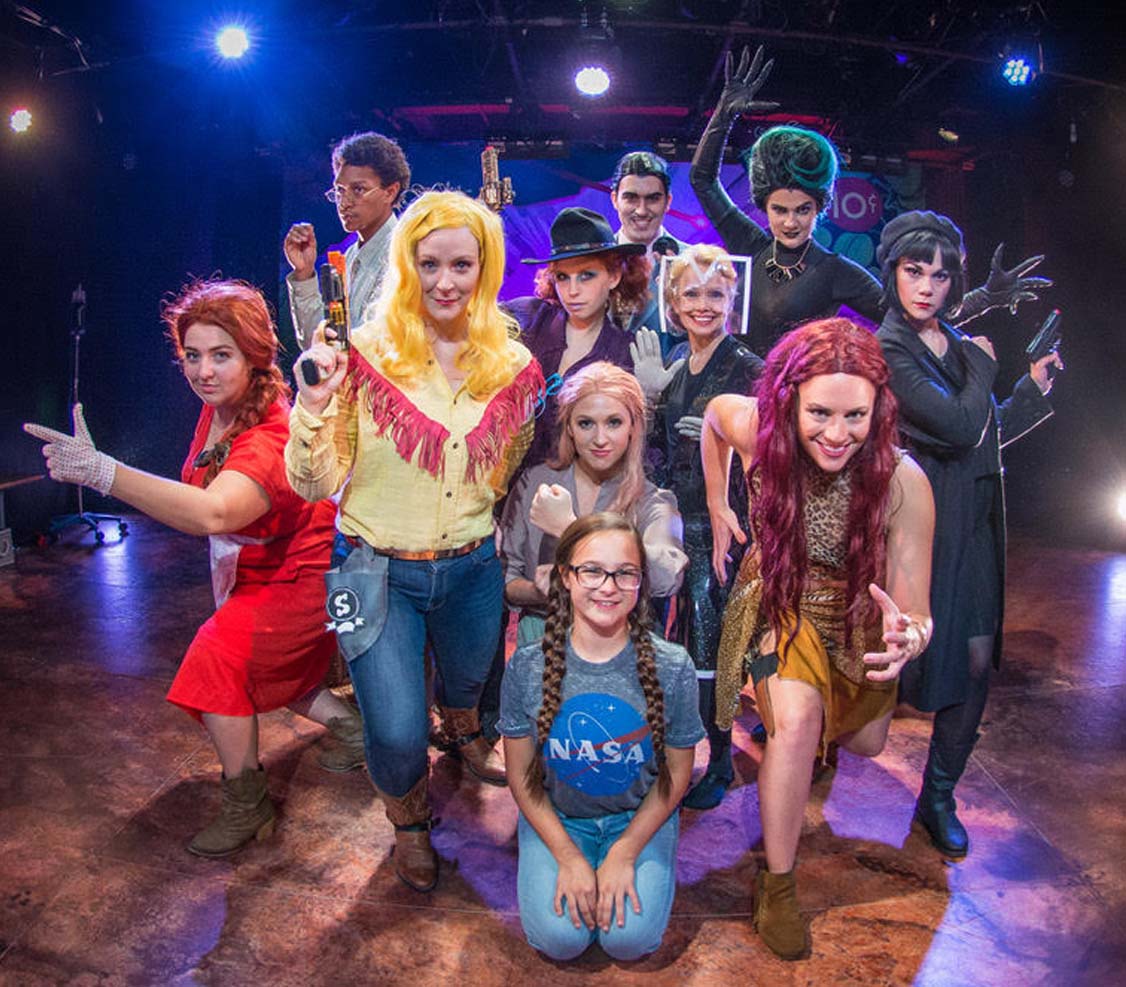 by Jeff Grygny
For generations, superhero stories have provided an escape route for lonely kids (and adults too). Now, with their ascendency in big-budget movies, they have become a target of derision from the guardians of culture. But the lowly pop medium actually has a lot in common with that snootiest of art forms, opera: both have larger-than-life characters, melodramatic situations, and stories stripped down to the most archetypal human emotions. In Doc Danger and the Danger Squad, Milwaukee Opera Theatre and playwright/composer Jason Powell send high and low culture out on a play date, and the result is what they do best: a campy comic-opera romp packed with pop culture tropes, with a firmly progressive slant, and a talented cast joyfully giving their all. Verdi it's not—but it's a lot more fun.
Powell is no stranger to genre opera; more than his previous work with MOT, Fortuna the Time Bender vs. The Schoolgirls of Doom, he's brought welcome narrative sophistication to his fable of the empowering virtue of fantasy. The plot moves nimbly between a pre-teen girl "The Kid," enchanted by some old pulp comics of her grandfather's, and the interconnected stories she's reading—in which she becomes a player—which then, mobius-like, fold back into the real world. Five heroines  confront their respective arch-villains (with wonderful invented characters like "Penny Dreadful" and "The Beetle Queen"). These conflicts form part of a much more sinister plot organized by the arrogant Professor Z. The script is full of winking humor, puns, and easter eggs, while the witty lyrics play with rhythm to create variety. Z's scheme eventually puts him at the head of an ad agency, where he can dictate public opinion and thus warp reality, "Maybe star in my own reality TV show, and then, who knows, maybe the White House." Horrible thought! In an intriguing twist on The Wizard of Oz, the "crappy real life" versions of the heroines have vices that are the opposite of their fantasy world virtues. Only the kid (with the aid of a magical McGuffin) can restore them.
Director Jill Anna Ponasik keeps her actors lighthearted but grounded in emotional truth. The action rips along like a rocket-powered flying saucer, with occasional sentimental interludes. Ponasik's creative team has produced a handsome production that sounds wonderful and never seems low-budget. Even the plastic rocks— the only real scenery—look great. Music director Donna Kummer keeps the tempo at a heart-pumping pace, and not once do you feel that the show needs more instruments than her piano. James Zager's choreography mostly gives effective movement to mood, music and story. And when the singers are belting their hearts out, under the coruscating lighting of Antishadows lighting company (itself virtually a part of the score) you feel like you've been translated into a epic alternate cosmos, without the need for any expensive CGI.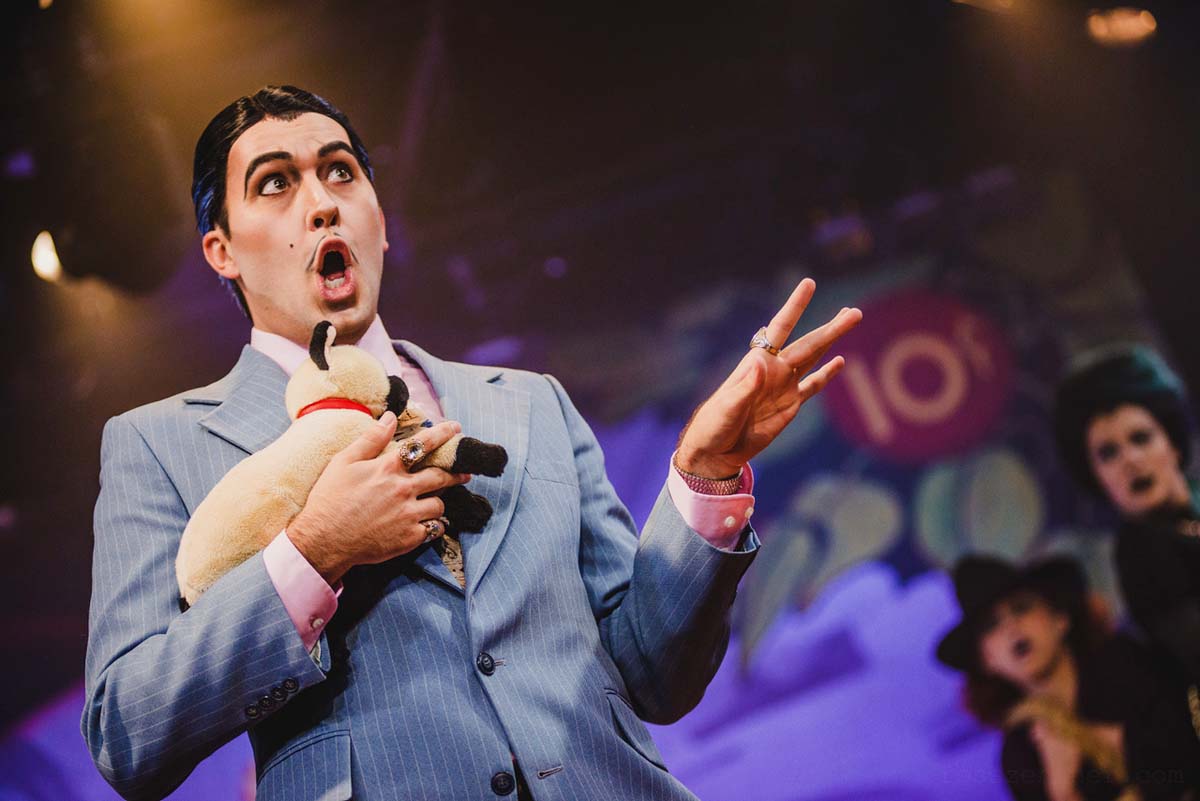 The players seem to be having as much fun with their goofy characters as we have watching them. Eric Welch and Ana Gonzalez especially tear into the camp of their villains' roles. Hannah Esch bring relatable comedy to a song about a sidekick who seems to always take the rough end of the adventure. Young Harper Nevin carries the linchpin role of The Kid with confidence and panache. And as the mysterious detective, The Lady in Black, Rae Elizabeth Paré brings an enigmatic charm. Just one thought: if the villain is using a formidable robot as muscle, might it be appropriate to cast a physically imposing performer rather than the game but un-threatening Melissa Anderson?
Doc Danger and the Danger Squad gives a goofy but sincere defense of fantasy: the Kid's mom thinks that comic books are trash, but her grad-school sister recognizes their precocious pre-code gender politics. Stories of legendary heroines conquering adversity empower girls to confidently go out and do the same. And really, as little love as the superhero genre gets from critics, it's popular for a reason: finding a little happiness in this crazy world practically amounts to a superpower. And the power of fantasy to shape our world—for good or evil —is maybe the greatest superpower we have.

Milwaukee Opera Theatre presents
Doc Danger and the Danger Squad
Music, Book, and Lyrics by Jason Powell
Directed by Jill Anna Ponasik
playing through August 30