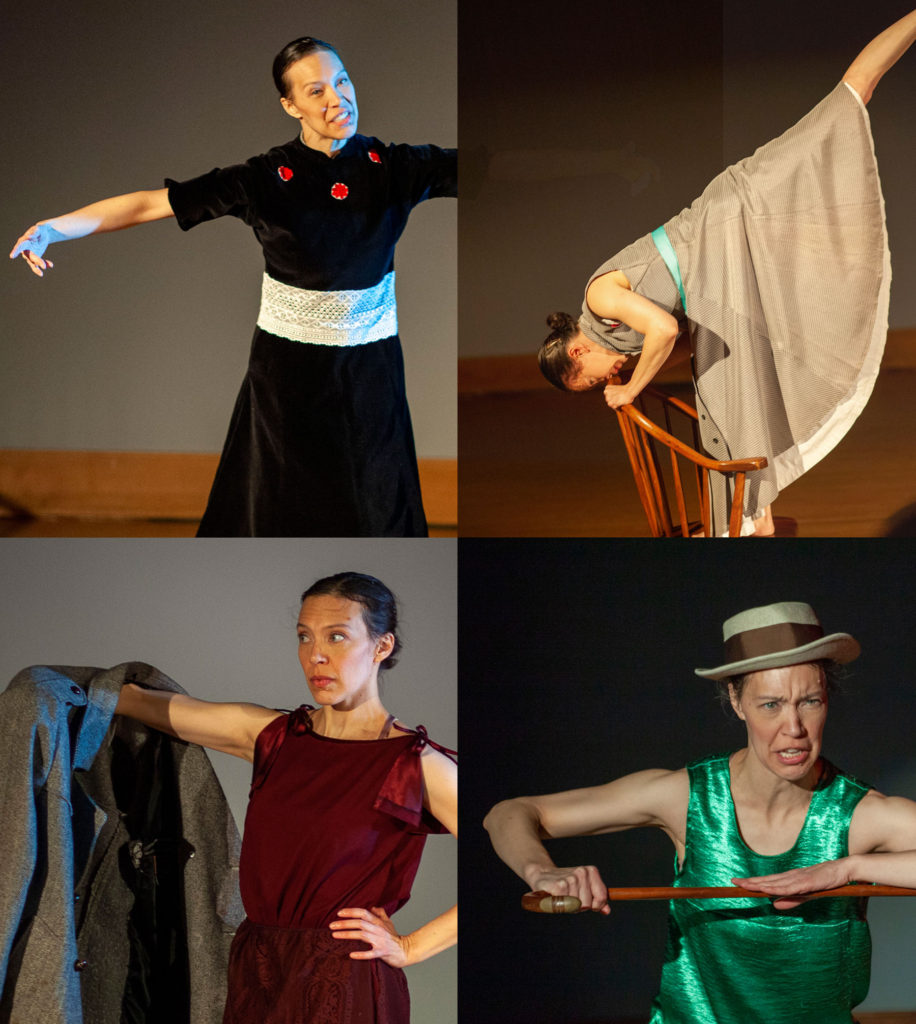 by Jeff Grygny
Anyone slightly familiar with Frank Lloyd Wright—arguably Wisconsin's most influential native-born artist—has heard that he was a difficult man. Those who know a bit more, or even have visited Taliesin, his estate near Spring Green, may know that he had three wives and a mistress over the course of his turbulent personal life (he was evidently better at courtship than at marriage). In Mrs. Wrights, a solo dance theater work currently in production by Quasimondo Physical Theatre, creator/performer Jenni Reinke focuses on those women: their stories, their personalities, and the culture of their times. We don't learn anything about Frank's work— which is fine, as their lives are quite compelling, boldly rendered in the mixed media of dance, spoken and recorded text, music, and a distinctive style of visual poetry that is robust enough to express lyrical, tragic, and humorous passages with emotional complexity and choreographic richness.
Reinke created this work as her MFA dance final project and has performed it at several different venues and festivals. The time she's spent clearly shows: the performance is as finely-shaped and textured as the the simple but beautiful props she uses to tell her stories. This latest iteration takes place in the elegant space of the Charles Allis Art Library. Atmospheric lighting and carefully-curated musical selections convey a wide range of moods and historical contexts, from a folk tune to old-timey jazz to a delightful rap based on the "Feminist Futurist Manifesto," delivered in the persona of Wright's second wife, the morphine-addicted sculptor Maude Miriam Noel. Ingenious costume changes create more visual variety, and Reinke often casts articles of clothing in multiple roles: a hat becomes a pot to catch dripping water; an elegant overcoat becomes a synecdoche for Frank at every stage of his life, whether folded up and rocked like an infant or laid out on the floor like a corpse. In one witty sequence, Reinke plays out the beginning of Martha Borthwick's affair with Wright, with one arm in the coatsleeve making seductive advances while the other arm coyly fends them off. Similarly, a rocking chair is a cradle for one of Catherine Tobin's six children with Wright; later, as he spends more and more time away, it becomes her cage.
Over the sixty minutes of this long-form dance piece, Reinke covers the lives of five women, spanning a period of nearly a century. She avoids the trap of most biographical theater; though a few voice-overs place the action in time and locale, Reinke focuses on telling moments that crystallize lives, personalities and crisis points. One tasteful yet harrowing sequence relates the incredibly horrible deaths of Wright's entire family at the hands of a deranged servant, after which Reinke briefly portrays the grieving architect himself.
The narrative sequences frame what can be considered the piece's primary focus: the extended dances in the modern vernacular that portrays each of the six characters. Reinke could pass for a Modigliani model, an attribute that she uses to great advantage, manifesting a broad palette of shifting moods and gestural feeling tones. Having exhaustively researched each character, she dances with every part of her body, from forehead to toes, distilling each persona into movements which, while deeply personal, express meanings and emotions that elude simple speech. Perhaps in these shapes and staccato rhythms, we can discern, as if by some subtle sense, the mutual influence of these women and Wright's designs. Like holograms, each part contains the whole. But dance is not a medium for cultural history or art theory, however much the show is charged with both. Those not fluent in the language of dance might be confounded by these sequences, while still being capable of admiring the wave-patterns on the holograms' surface.
Despite it's being as semiotically rich as a Christmas fruitcake, with its surreal imagery, tremendous visual flair, emotional authenticity and welcome touches of humor, Mrs. Wrights is a very accessible tour de force of the highest artistic integrity.
Quasimondo Physical Theatre
presents
Mrs. Wrights
created and performed by Jenni Reinke
playing through November 16
Want to get updates when a new review is posted? Send an email to [email protected] or visit the SUBSCRIBE page