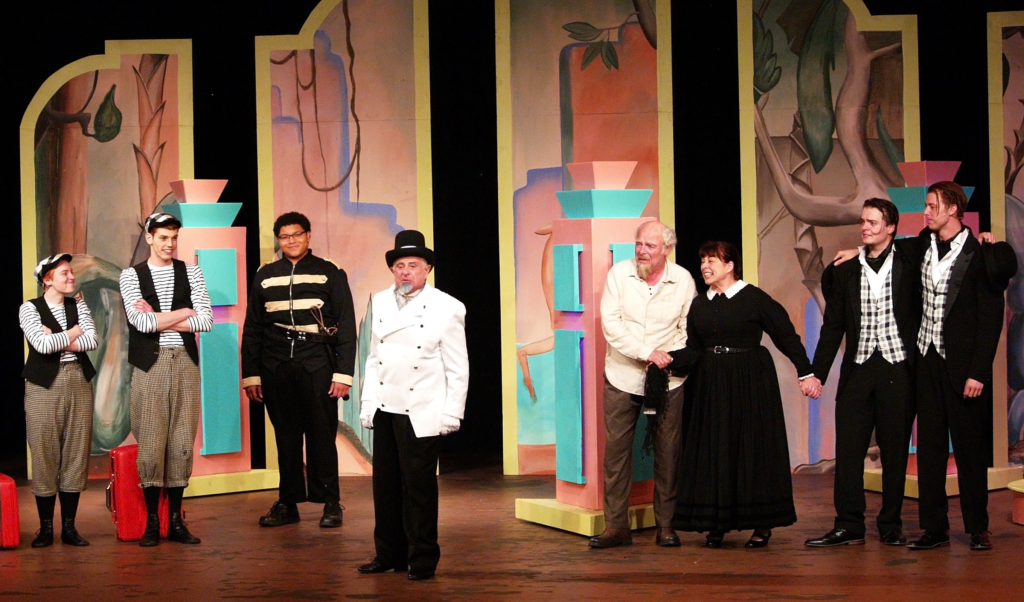 by Jeff Grygny
Imagine a time when wealth and status rule society, when the patriarchy is largely unchallenged, and when gold chains are considered stylish menswear. Ah yes, we're talking about the 80s, that epoch of electropop and trickle-down economics.
It's a canny choice of setting for The Comedy of Errors, Optimist Theatre's tenth anniversary production of Free Shakespeare in the Park. Co-Directors M L Cogar and Ron Scot Fry create a world that's close enough to us to be relatable, yet with the scent of Elizabethan mores. The result is as fun as the pop beats that provide its soundtrack, from Cindy Lauper through Devo to George Michael. The rest of the design fits the mood of silliness careening into farce. Costumes by Christy Seibers resemble clown-inflected period wear (what's the deal with the stuffed bird on the merchant's hat?), while the set, by the gifted Posy Knight, recalls 80s pastel Lego-block postmodernism while also suggesting an Italian Renaissance city-state. It's a happy confluence of play, concept, design, and the directors' facility with commedia-style antics that gives us an evening of frothy, feel-good entertainment. Which is exactly what Shakespeare was aiming for when he literally doubled down on an ancient Roman comedy by adding a second set of identical twins. And if random chance is the source of all the play's confusion, it also brings everyone together for a joyful resolution.
The story, such as it is, exploits every possible combinations of mistaken identity, and it's hard to imagine anyone taking it much further. Shakespeare mines farce from showing perfectly reasonable people acting on perfectly reasonable but incorrect assumptions. This goes a surprisingly long way when performed by team of talented performers who are young (many new to Shakespeare In The Park), full of energy, cute, and skilled with comedy that's cartoonish, but with the undercurrent of genuine emotion that makes it meaningful, not mere buffoonery. Thorin Ketelsen registers many stages of confusion as a strange woman insists that she is his wife; Libby Amato as the woman in question registers genuine hurt from her "husband's" diffidence.
Cole Conrad and Rebekah Farr, as the twin servants, equally feel the consequences of their employer's contradictory instructions. An inordinate amount of plot hangs on the disposition of a bespoke gold chain, and when Connor Blankenship, badgered, bound and beaten, roars "THE CHAIN," you know exactly where he's coming from. The subplot of one twin being attracted to the other's sister-in-law plays in a more realistic key, with Katherine Norman capturing the woman's mixed feelings in a gamut of facial and physical expressions. (You have to give Shakespeare credit: all of her sisterly advice about wives being obedient turns out to be utterly wrong.) The wonderful Robert Spencer makes all-too-brief appearances in dual roles as a lusty kitchen wench and a dotty exorcist, while James Pickering is reliably powerful as the bereaved father.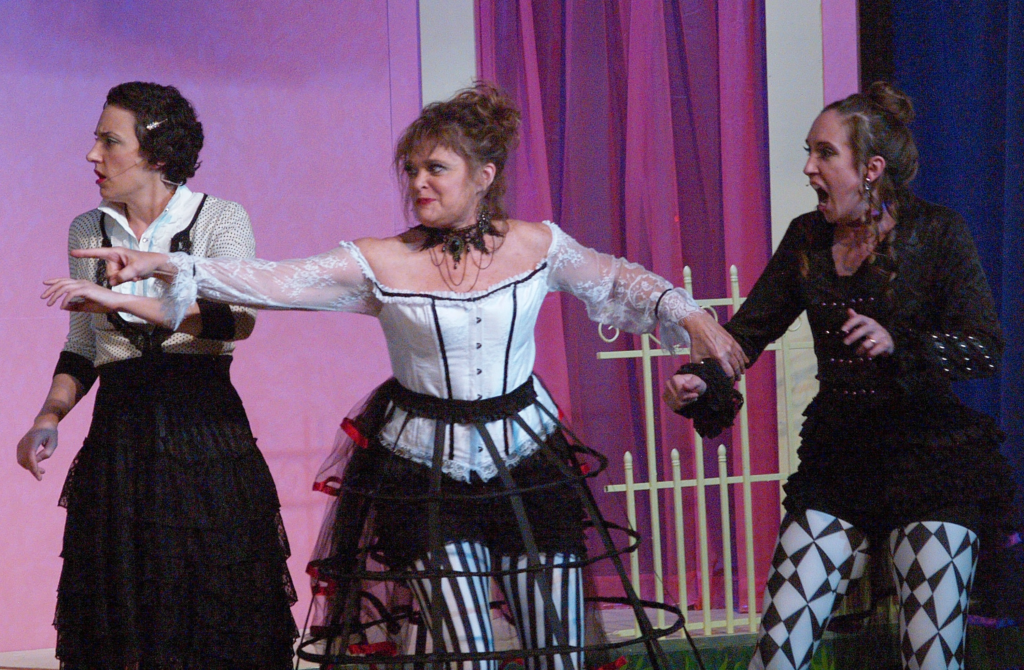 The Peck Pavilion is a challenging venue, with traffic roar and jangling drawbridges threatening to overwhelm the dialog at any moment. A lively, urbane comedy can rise above it all far better than heavy fare like last year's King Lear: with the help of the robust sound system, we could make out almost everything that was said. Even though the play runs two-and-a-half hours including intermission, the subplots with the courtesan and kitchen wench still seem underdeveloped, while a talky prologue has some lovely turns of phrase but is largely lost in the urban din. But these are minor quibbles. The enthusiastic Friday night crowd responded to the farce with laughs and cheers.
Summer is a time for parties. Milwaukee is a party town. The Comedy of Errors is a party play, and the actors are down with the party. So if music be the food of fun—party on!
Shakespeare in the Park presents
The Comedy of Errors
by William Shakespeare
playing through July 13
https://www.optimisttheatre.org/comedyoferrors.html
Want to get updates every time a new review is posted? Send an email to [email protected] or visit the SUBSCRIBE page