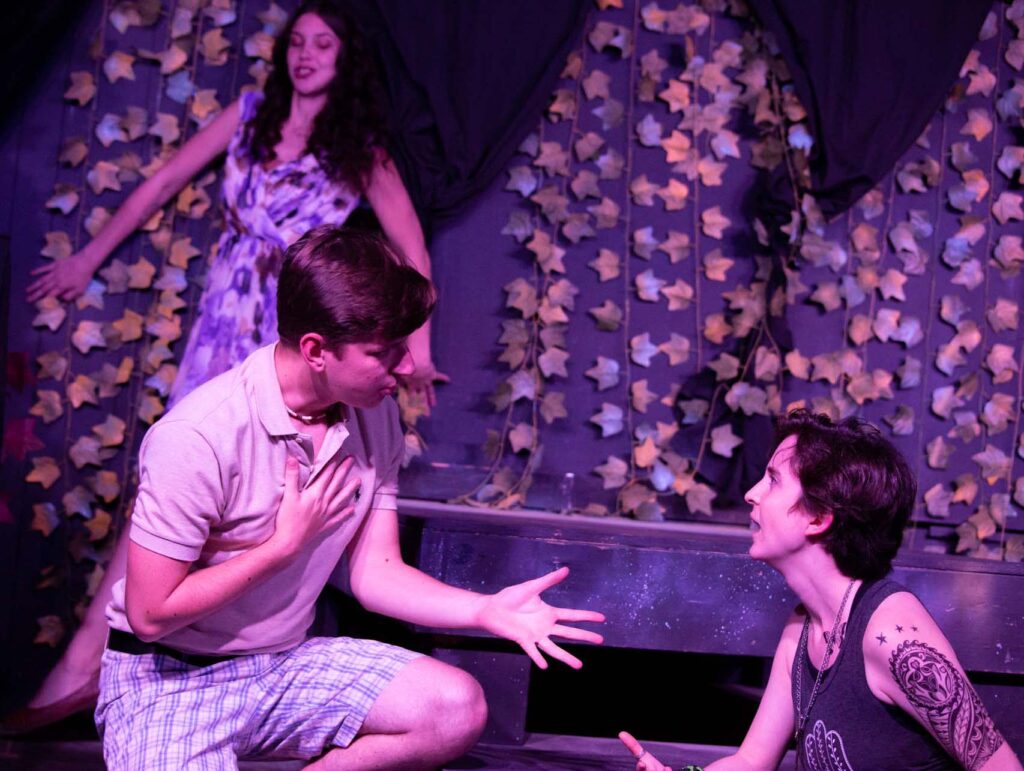 by Jeff Grygny
"Dying is easy," a famous actor reportedly uttered with his last breath—"comedy is hard." In the fresh, winsome production of A Midsummer Night's Dream by Voices Found Repertory, actor Ben Yela manages both: his buffoon character Bottom performs a tour-de-force of serial deaths that, in its sheer excess of over-the-top commitment, reduced the audience to a crowd of helplessly laughing idiots. This was a comic maraschino cherry on the top of a fluffy dessert of a show, with layers of sincerity and silliness, decorated with imaginative squiggles, and very, very funny.
It's an excellent way to celebrate what for many will be the first live indoor theater in a long time, with the specter of plague still hovering just a thin patch of fabric away. The audience were all masked, though the performers were not, but vaccination status is checked informally at the door, so the risk seems low enough for the present (pouring a libation to the theater gods now).
Voices Found has been bringing their youthful, kids-put-on-a-show vibe to works of classic theater for several years now, and their shows keep getting stronger and stronger. Director Sarah Zapiain clearly isn't concerned about doing SHAKESPEARE; she wants to put on a show that's fun and as accessible to as many people as possible, while still honoring and loving the source. She's coached her players to bring Gen Z sensibility to the 500 year old script. And it works beautifully. Shakespeare's lover's quandaries fit perfectly with the relationship dramas of the TikTok era. The actors tease twenty-first century humor out of the sixteenth-century text and make it look easy. Zapiain skillfully varies the pace, with moments of calm sincerity and quiet hilarity along with utter mayhem. And if the clowning occasionally overpowers the emotional truth— well, anything for a laugh these days, right? But mostly the comedy comes out of characters. situations, and an ingeniously deployed French horn.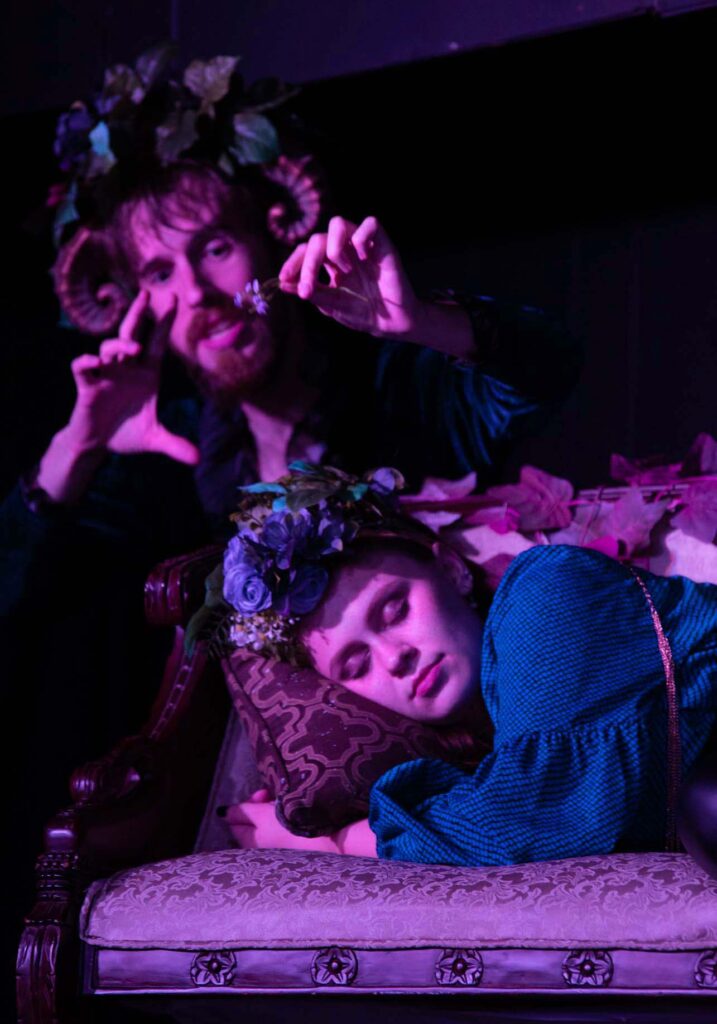 The leading players are all strong performers. As Hermia and Helena, Haley Ebinal and Maya Danks carry the first half of the show, each with her distinct blend of charm and silliness; Philip Steenbekkers plays the diffident swain Demetrius with an anything-goes gameness. Grace DeWolff presents a credibly laddish Lysander with a teenager's bluff facade. On the fairies' side, Kyle Connors brings a goofball innocence to the role of Puck, while in the dual roles of Theseus and Oberon, Brandon Haut has something of the manners of a put-upon but competent upper manager. And in a production that breezes past the play's darker aspects, Amber Weissert's Titania and Hippolyta seem to be concealing more than they show us. Jessica Trznadel's simple, honest grief for her pretend lover Pyramus is as wonderful in its way as all of Bottom's grandstanding.
The living-room like Inspiration Studios space doesn't allow for much in the way of stagecraft; Puck creates the Athenian forest simply by flipping some black curtains to reveal hanging vines. But the production never feels impoverished. The Elizabethan songs are replaced by aptly-chosen classic hits. Accompanied by a couple of acoustic guitars and the indispensable ukulele, they sing of jealousy ("Jesse's Girl" and "Jolene"), love (Time after Time"), and magic ("Dancing in the Moonlight.") It's like a Karaoke party, where camaraderie wins out over professional polish. Nothing could be more appropriate for this light, loose show. It's a wonderful tonic for pandemic fatigue, and a good omen for times to come. Leave a bowl of milk on the porch tonight for the fairies—just in case.
Voices Found Repertory presents
A Midsummer Night's Dream
by William Shakespeare
playing through September 12