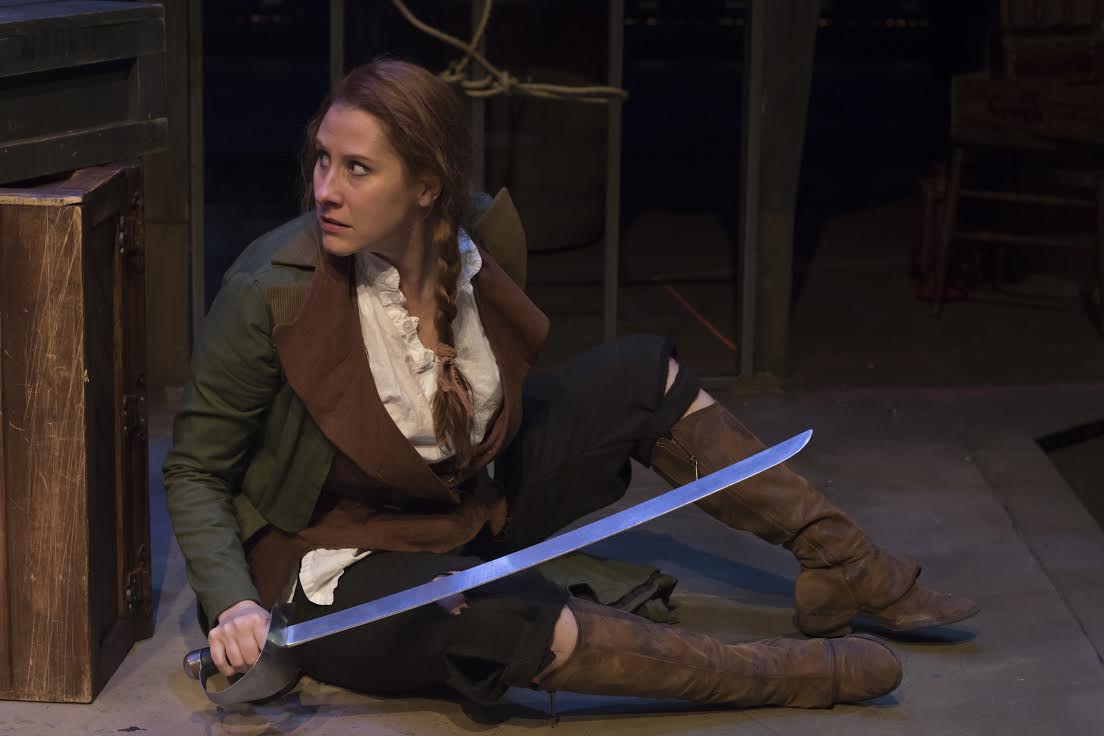 by Jeff Grygny
A pirate tale is generally an occasion for swashbuckling, rum, and large sweaty men growling "Yar!" at each other. There's nary a "yar" to be found in Bonny Anne Bonny, a new play by the prolific Milwaukee writer Liz Shipe. There's plenty of genre grist, without question: rope-swinging, explosions, swordplay—and rum, of course, used to great comic effect. What's fascinating about this play, now in its world premiere in a production by Theater Red, is not simply that it features a lady pirate, but that it explores, in fresh and unexpected ways, what that's about.
Over the past couple of decades , women have stormed (without saying please!) the ship of Western culture: former male bastions of academia, business, and politics have seen a massive influx of XX chromosomes like literally no civilization in history. Lately the invasion seems to have peaked, with music, computer games, science fiction, stand-up comedy—verily, all of pop culture— inundated by a flood of female faces, bodies, and voices. Given the massive backlash among certain people (whom Neanderthals would probably be embarrassed to be seen with), it's not surprising that, despite their incredible triumphs, some women still feel embattled.  Enter Anne Bonny, the complicated titular protagonist of this play.
We meet Bonny while she's still the strong right hand of the infamous Edward Teach, a.k.a. Blackbeard. With her fearless heart and brilliant tactics, she's the real reason for his success. But as often happens among pirates, there's a falling out; due to the boorish behavior of Teach's men, Bonny boots him overboard, commandeers his ship, sets it afire, and sails it into port. With only her trusty mate, the seasoned buccaneer Mary Read, and Bonny's feckless husband— a pirate whose fierce reputation comes only from his sex—she sets out to find a ship, a crew, and further fortune and fame. The yarn unfolds in the spirit of old Errol Flynn movies, without the fantasy of later entries like the Jack Sparrow saga.
Shipe's tautly-rigged script puts us through all the paces of an adventure tale, creating a score of distinct, memorable characters, each with his or her arc and shining moment. There's humor, romance, song, treachery and all manner of playful hi-jinks. But while there are several spectacular set piece battles (choreographed with loving attention to detail and credibility by director Christopher Elst), Bonny is more likely to win her spoils by boldness and guile than by brute force. The crew she recruits for her new exploit are all women of the town, who—despite having little or no actual pirating experience, and often being physically or emotionally most un-brawny— handily happen to have exactly the skills she needs: a navigator, a demolitions expert, an acrobatic pickpocket. . . and a few nice women, old and young, who, inspired by her freedom and courage, just want to follow her.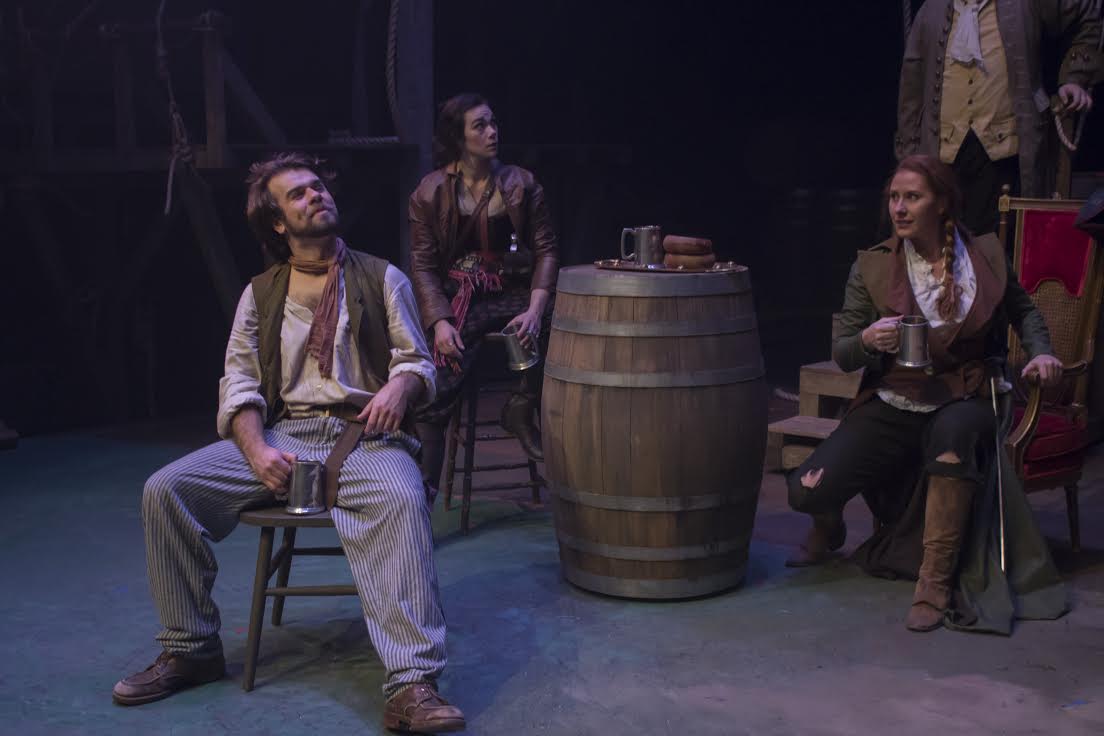 In the luxurious comfort of the The Raabe Theatre at Wisconsin Lutheran College, the production reaches a level of professionalism hard to match in the city (just make sure your charts are up to date: road construction makes the theater a tricky goal to reach.) Christopher Kurtz's impressively solid set design conjures the decks and taverns of the period, and offer the players ample opportunities to clamber, heave-ho, and lay low. A few theatrical suggestion of wind and waves might have better projected the illusion of sailing, though.
Shipe's detailed world-building offers a treasure chest of tasty characters, and under Elst's direction the actors have a blast with them, while staying emotionally true to their often larger-than-life personalities. Rae Elizabeth Pare plays Mary Read as the clear-eyed Spock to Alicia Rice's Kirk-like, "leap don't look" Anne. They're clearly best buds, but there's no hint of Sapphic feelings; the tension between them stems from Anne's rash decisions, not blighted affections so far as we can tell. Both of them sport blades and pantaloons bravely, and you can quite believe that they have the guts to lead hardened cutthroats in raiding parties. As Bonny's consort, Zack Thomas Woods plays an excellent male bimbo, swaggering in public, bursting into sea chanteys charmingly, but a "shite pirate" underneath it all. Bryan Quinn's avuncular sea cook offers us the closest thing we get to Long John Silver's "arr."
We have three delightful flavors of villain: James Carrington plays Blackbeard with a nicely-restrained burn; Thomas Seabald gives the Royal Captain just the right amount of smarm to his English gentility. As a hot-hearted Spanish pirate, Sean Duncan seems to be having more fun onstage than any actor should be allowed. But none of them are villains for villainy's sake: each has his own clear motive (perhaps naturally, the men's scenes have the strongest genre flavor; they know what's demanded of them and they deliver it expertly). The actresses have a more challenging task. Bonny's all-female crew displays a wide spectrum of women, each one interesting enough to have her own play. Particular standouts are Macie Laylan as a street urchin who was apparently raised by feral cats (very good in the rigging), expressing herself with feline movements and little catlike vocalizations; and Drea DeVos as a shy slip of a lass who would like to be called "Iron Jenny." DeVos takes her supporting role and makes it rich, touchingly showing the glimmer of self-determination in a girl who has been told all her life to keep her place.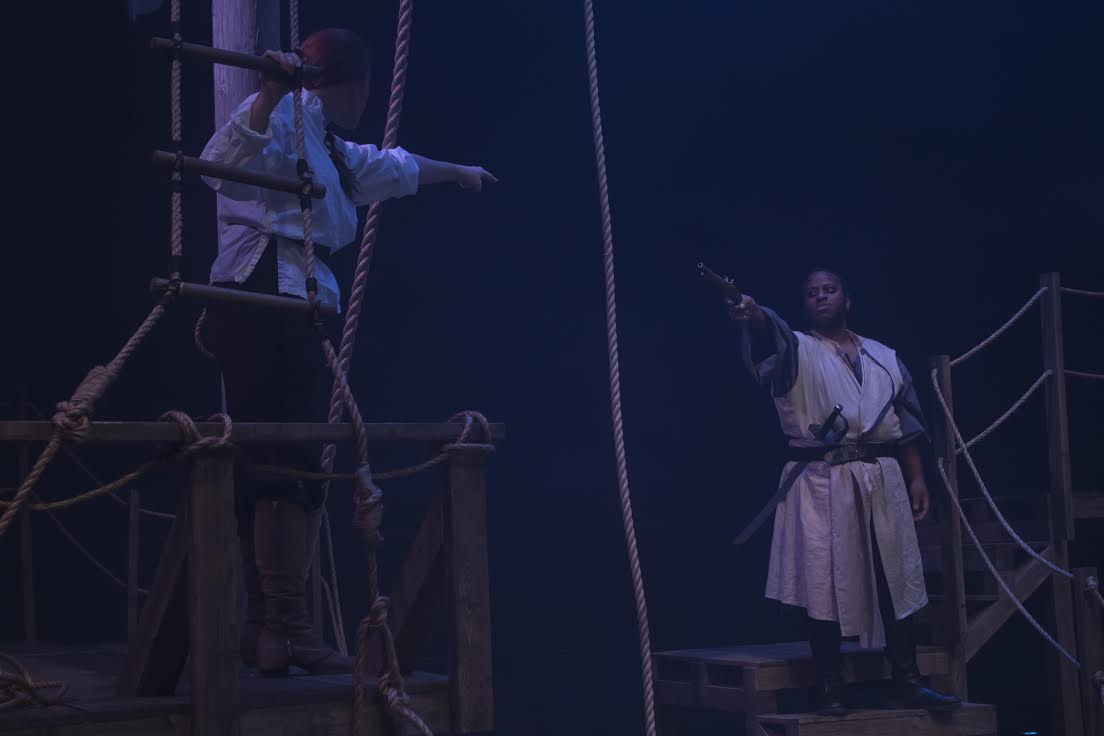 The first act ends (without getting into spoilers) with Bonny staging a brilliant victory—but some of her crew is captured, setting the stage for a daring rescue and final reckoning with the villains. But Shipe steers by different constellations: she rips the fabric of the genre wide open to ask some very interesting questions.
We begin to see Bonny's darker side, but that's hardly unusual in contemporary hero stories. In the second act tension grows between the Captain and her first mate: Anne becomes cold and withdrawn; "me first" is the pirates' ultimate law. Of course pirate yarns are a fantasy of freedom: to sail the wild sea, where nobody can tell you what to do (it's telling that both anarchists and corporate executives have embraced the mythology). The women who follow Anne Bonny all crave freedom; not all of them are ready to face the reality: an insecure, unsettled life full of risk, violence, and the shadow of the gallows. It's a cruel existence. Anne is a complex enough character to get all this: she's caught between the glamour of freedom and its lonely reality. By going here, the play becomes more than a "you go, girl!' empowerment fantasy to become thoughtful look into the ramifications of power. It's not afraid to say: OK women, you have power; now how are you going to handle it? But legends have their own truth. The idea of freedom is something we wouldn't want to live without—even if we don't necessarily want to pay the full price for it.
Stipes deserves major credit for taking her play into these questions. Bonny Anne Bonny offers laughs, thrills, and something to think about. That's a lot more than you'd expect from a mere pirate story!
Theater Red presents
Bonny Anne Bonny
written by Liz Shipe
directed by Christopher Elst
playing November 3rd through November 12th, 7:30pm
The Raabe Theatre
Wisconsin Lutheran College
http://www.theaterred.com/bonny/
"THERE WILL BE NO LATE SEATING, and NO REFUNDS for those who arrive late. Please allow plenty of time for traffic, finding the theatre, and parking."
---