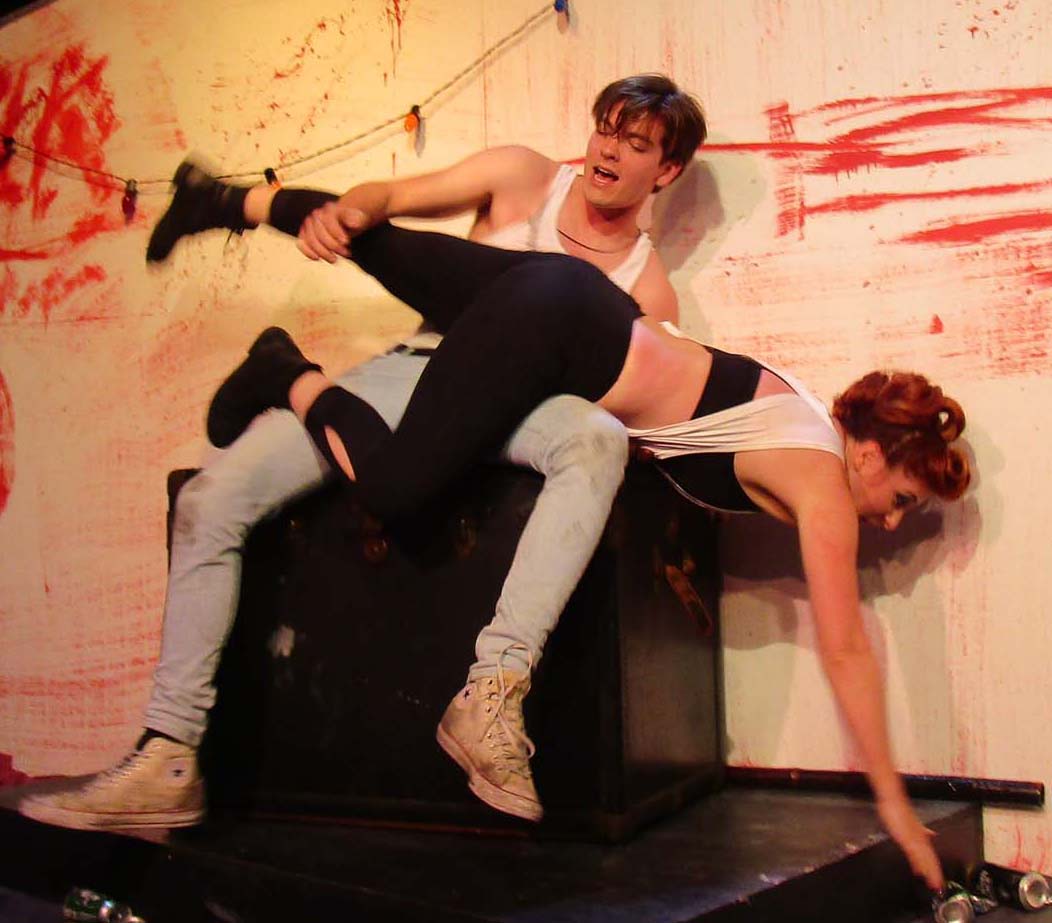 by Jeff Grygny
Where can you go for a stylish rendering of Shakespeare's classic tale of brave young people rebelling against the elitist patriarchy to find true love? Off The Wall Theatre, that's where. This would be a spoiler—except that director Dale Gutzman pretty much reveals it in his pre-show speech. His program note, a gnomic poem by counterculture psychologist R.D. Laing, gives you another good idea where he's coming from:
I MUST PLAY THEIR GAME
OF NOT SEEING I SEE THE GAME
The Taming of the Shrew is not performed much anymore. Just maybe because—oh, because of the rampant misogyny of most of the characters, how Petruchio manhandles, starves, and brainwashes Katherine, who at the end delivers a long speech about how wives must submit to their husbands? Not exactly in the temper of these exquisitely egalitarian times.  Gutzman, with great faith in Shakespeare's transcendental  humanism, plays against the literal text to find an alternative meaning. Will it satisfy all viewers? Probably not. But at the very least it provides fuel for radical thinking, and a great deal of wicked, farcical fun.
This is a belligerent, antisocial production, raging at the hypocrisy of a society that sells young female flesh to the highest bidder under the sanctimonious pretense of marriage. With a set consisting of expressionistically-angled white walls daubed with crude bloody smears, costumes that evoke a timeless modernity, exaggerated characters, and subversive shtick, it's Commedia dell'arte by way of underground comics. Add a bleak yet emotionally-rich soundtrack of songs by British "gloom rockers" The Smiths, and the stylistic cocktail is potent, kinetic, disturbing, and often hilarious.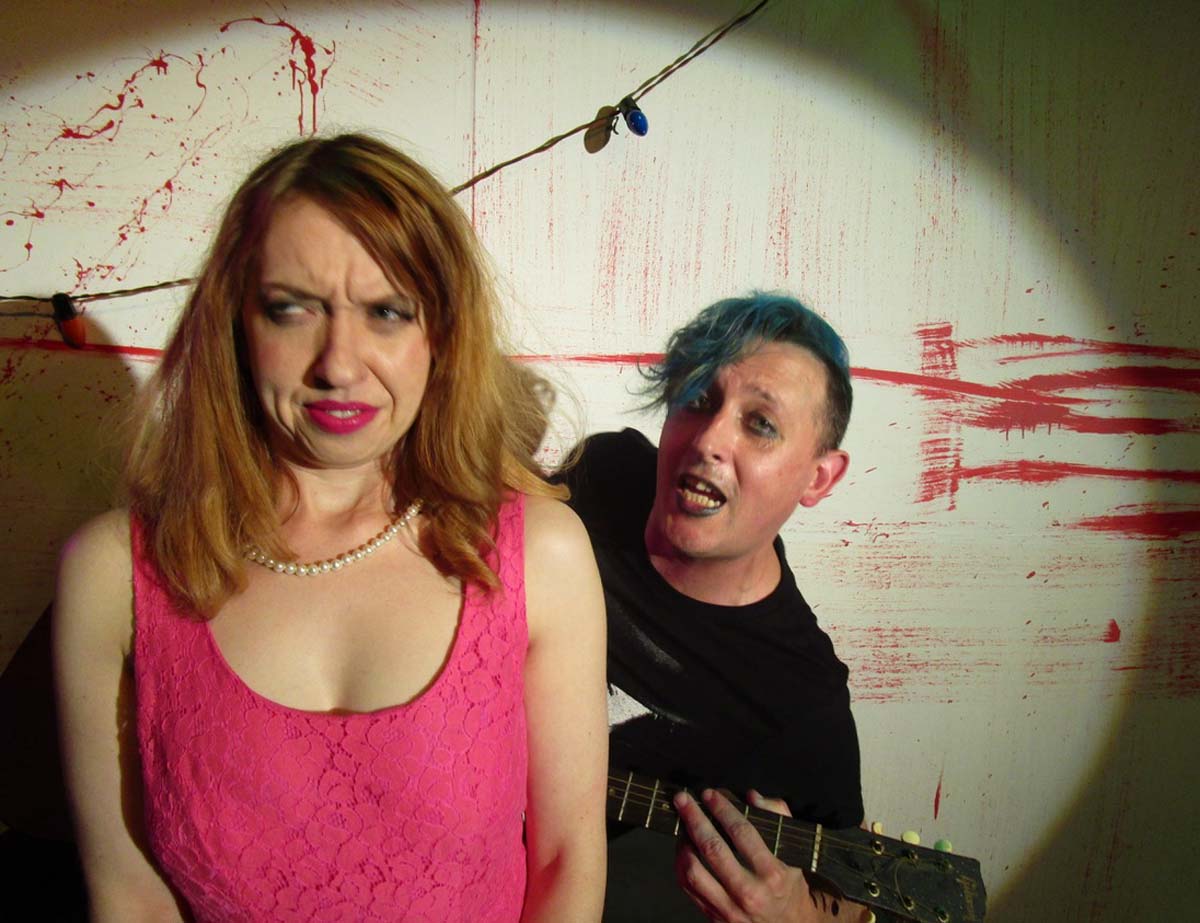 The talented cast pulls off this ambitious feat of theatrical courage: a comedy about one of the most sensitive topics of our time. Shakespeare's creaky episodic narrative technique is definitely showing it's age— but it, too, is rough, punky, and like a comic strip. And there are enough Italian names to cast another Godfather sequel. The subplot featuring Katherine's sister Bianca, played with suburban brattiness by Jenny Kosek, could be a farce all on it's own (and probably was, considering Shakespeare's habit of scavenging stories).  Two of her suitors disguise themselves as tutors in order to get close to her: Jeremy Welter' amusingly creepy goth musician and Nathan Danzer's clueless upper-class twit. Meanwhile, Randall Anderson, as a servant impersonating his high-born master, deftly shows us an underling coming to enjoy the perks of status.
But of course the hot molten center of the play is the perverse relationship between Alicia Rice's Katherine and Jake Russell's Petruchio. They are both privileged, obviously damaged, and a couple of very bad kids. When we meet Kate, she's throwing an epic tantrum, screaming verbal barbs in every direction. Petruchio appears to us at the bad end of a bender—he and his bro-servant enabler Grumio, convincingly played by Max Williamson, vomiting into plastic buckets. Of the two leads, Petruchio seems the more wounded; Russell's sociopathic actings-out, reeling from exploit to exploit, are sick fun to watch— like a compilation of car crashes on YouTube. Why exactly does he abuse Katherine so badly? He doesn't seem to know himself, as if it's the only way he knows how to reach out (the smooch he plants on her with the famous line "Kiss me, Kate," is unlikely to pass muster with the #MeToo crowd).
It's up to Kate to recognize a kindred spirit who breaks all the rules of the game, and Rice takes us along on every step of her journey. James Strange brings smarmy dignity to the role of the girls' exasperated father, while Mark Ninneman and William Molitor earn laughs as a couple more father figures caught up in the multiple deceptions. In the final scene, where the men gather to smoke cigars and make power-displays while the women are sent away, everything comes together: this interpretation is as much about wealth and power as it is about the battle of the sexes. We clearly see a picture of a society that enables selfish, greedy men to distort the souls of everyone around them.
Katherine's final speech gives Rice her heaviest sub-textual lifting, and each audience member must judge for herself whether or not it works. A cliché ending would show Katherine walking away; Gutzman's romantic ending is more hopeful, maybe even more emotionally astute: it affirms the possibility of people finding a genuine connection —in spite of the fucked-up world they grew up in.
Off the Wall Theatre presents
The Taming of the Shrew
by William Shakespeare
Directed by Dale Gutzman
playing through October 7