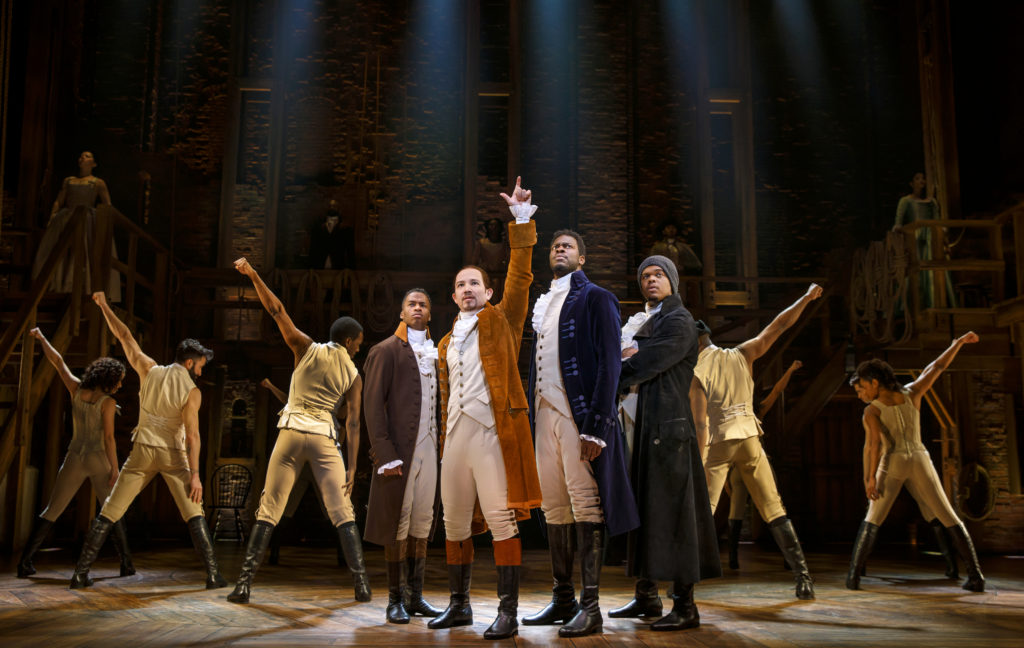 by Jeff Grygny
In a 2015 interview for Vogue magazine, Lin-Manuel Miranda said that when he first thought of writing Hamilton, he googled "Alexander Hamilton hip hop musical" to see if anyone had already done it. For anyone else, that uninspiring face on the ten dollar bill would seem an unlikely pairing with the beats we hear rattling the glass of many a smoky-windowed vehicle on the streets nowadays. But thus works the mind of genius: to think a crazy idea is worth spending six years on—and turning out to be spectacularly right. Having picked up Ron Chernow's best-selling biography of Hamilton, Miranda saw himself in the bastard son of the Caribbean, orphaned and destitute at 13, whose writing eloquence earned him a scholarship to New York City and a meteoric career to the top of the country he helped create. Now, after wheelbarrows full awards and a run on Broadway that you needed several portraits of Benjamin Franklin to afford. But could it really be all that?
The production has wended its way at last to the city that will host the 2020 Democratic Convention. Ladies and gentlemen: you can for once believe the hype. Even as a touring show (which evidently is contractually obligated to replicate the Broadway experience in every detail), Hamilton is a nonstop theatrical rush that grabs you by the collar in its opening number, and dazzles you with its seamless union of music, words, movement and stagecraft, tossing out one stunning theatrical moment after another. It's like being regularly and repeatedly struck by lightning. No wonder people pay big bucks to see it.
Miranda has populated his lyrics incredibly densely with story, context, feelings, and meanings, in wonderfully mischievous and evocative ways (rhyming "Britain" with "shittin" for instance). But though the words often wash over you faster than the brain can take them in, you somehow get the crucial information you need to follow even the abstruse machinations of post-revolutionary politics. Couching debates as rap battles, or setting the rules of dueling to verse, Miranda crafts dramatic poetry as rich as Homer's, but in contemporary language — a feat that has been the holy grail of playwrights ever since the modern age began. Great narrative poetry expands in the mind to create virtual realities of images and feelings; in Hamilton, we see how Shakespeare would be writing today: with music and a beat. That beat drives the play like the pulse of the title character's irresistible ambition. And he is a tragic hero. His spectacular success leads to a converse self-implosion, due to that most American of mistakes: not balancing life and work. This tragic flaw leads indirectly to scandal, his fateful duel, and to Aaron Burr's claim to infamy.
Refined by literally jillions of performances, the production is a perfectly-running machine. The stage is in constant motion, yet even with 26 athletic bodies cavorting at once, Andy Blankenbuehler's choreography highlights the key actions, clarifying the story while embodying the vibrant animal energy of a country being born. Director Thomas Kail and lighting designer Howell Binkley use a revolving stage and rock-concert lighting as limbs of the score, creating dreamlike visions and dazzling climaxes that Wagner could only wish for.
Any one of the touring cast would be a star in this town: these are dedicated professionals, and we are in good hands with them. In the unenviable job of filling Miranda's shoes, Joseph Morales carries himself with understated humility that contrasts well with Hamilton's insatiable drive and fierce commitment. Erin Clemons brings calm grace and a bell-like voice to the character of Eliza Hamilton, a role that history has given her little to work with. Warren Egypt Franklin has boisterous energy in dual roles as Lafayette and Jefferson; the latter portrayed as a pompous popinjay (which seems about right, given his recent fall in reputation). Marcus Choi brings heart to the role of the "Father of Our Country," without ever really stepping outside the gilded picture frame; while in the to-die-for character role as America's least popular monarch, Neil Haskell laces George III's numbers with petulant sneers. Nik Walker clearly relishes playing the complex character of Aaron Burr, the colonial aristocrat who advises young Alexander to "talk less, smile more," and to hide his hand until it's clear which side is winning.
The Hamilton/Burr relation sets up one of the show's most potent themes; one that is, remarkably, conveyed almost entirely by subtext. That the nation's founders should be played by performers of color, singing and dancing in a distinctively African-American musical idiom, is the opposite of a coincidence here. The song "My Shot" makes Miranda's identification with this poor immigrant's drive and talent absolutely clear, and, as delivered by this cast with fierce passion, the implications are enough to send any white supremacists in the house running screaming for the exits. "Immigrants, we get the job done," proclaims another character. Hamilton, an American Musical reiterates the Obama-era aspiration that this is where anyone can make it, given heart, talent, and a level playing field, while it brilliantly makes democracy feel exciting in a way that it hasn't seemed in decades. One gesture says it: the way the men in the cast flourish their Colonial coat-tails like banners—the motion captures the bravado of a visionary time, when the old order was ablaze, with a new world rising from its burnt foundations.
The real Hamilton was far from populist; his opinions have often bolstered conservative arguments for keeping power in the hands of the elite. But Miranda has fashioned a new myth, one that vibrates with the aspirations of any minority: not to wait for change, like Burr, but to plunge forward and make your own world.
Artistically, Hamilton is a magnificent trailblazing achievement, showing the robust energy and narrative richness of the "hip-hopera" as an accessible musical form. We hope to live long enough to see Shakespeare, Aeschylus, and newer, yet-undreamed stories getting similarly creative treatments. Ideologically, the show hews uncomfortably close to the neoliberal embrace of meritocratic identity politics; as if the system is just fine, as long as it is accessible to anyone with the right stuff regardless of race, ethnicity or gender orientation. Brothers and sisters: the system is not fine. Between the transglobal plutocracy and ecological catastrophe, succeeding under this world order is like getting a comfier room on the Titanic.
Or maybe we'll tear it down and raise something better. (If we do, it would be nice to have people like Hamilton on our side.)
However that may be, Hamilton makes making history look both understandable and fun. And that is why the movie adaptation must be made, like, five years ago, so that its message can quicken pulses throughout the globe—especially those who don't have the Benjamins for the ticket. Your move, Mr. Miranda, sir!
Jeffrey Seller, Sander Jacobs, Jill Furman
and The Public Theater
present
Hamilton
book, music, and lyrics by Lin-Manuel Miranda
playing through November 17th