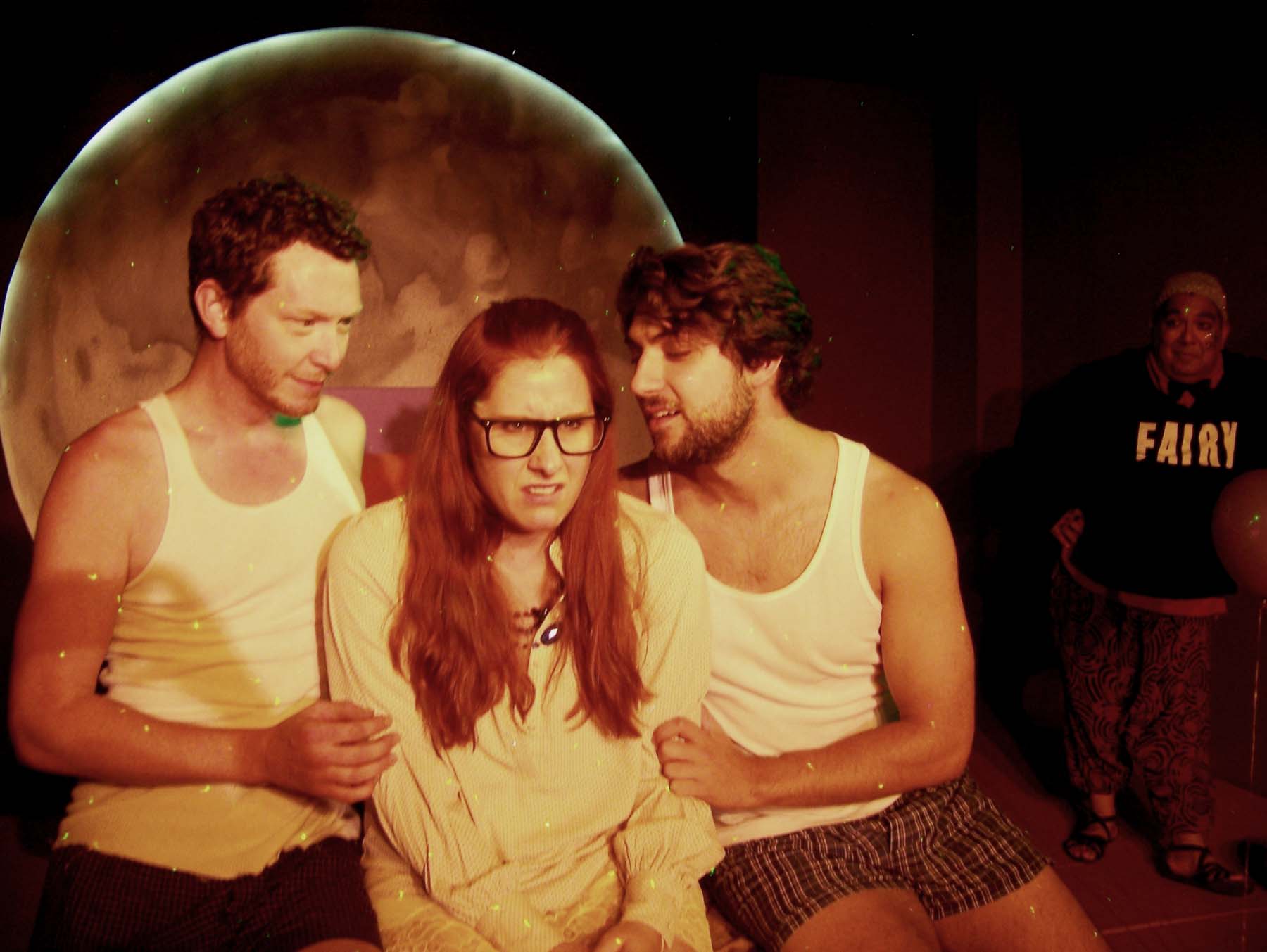 The poet's eye, in fine frenzy rolling,
Doth glance from heaven to earth, from earth to heaven;
And as imagination bodies forth
The forms of things unknown, the poet's pen
Turns them to shapes and gives to airy nothing
A local habitation and a name.
                                                William Shakespeare
So use your imagination;
Just take this motto for your theme,
And soon you will dance
On the road to sweet romance,
And ev'ry day will be a dream! 
                                              Cole Porter
 by Jeff Grygny
Shakespeare fatigue: any frequent theatergoer knows it. What's going to make this production different from the last nineteen ones I've seen? Is there anything new to be discovered in these theatrical relics?
A Midsummer Night's Dream, the most often-produced of all the Stratford scrivener's plays, is especially susceptible. But in Off the Wall Theatre's latest offering, director Dale Gutzman, like a master alchemist, is never afraid to blend exotic theatrical ingredients to come up with something fresh and revealing. His elegant, witty interpretation is spare compared to American Player's lavish production; while, unlike Optimist Theater's hippie-inflected show of a few years back, it doesn't flinch from the play's darker aspects. This is no family-friendly fairy show; neither does it wallow in darkness. It's as mature, wise, sensitive, and a touch world-weary, as Shakespeare reveals himself to have been.
Gutzman deploys a potent threefold strategy in his assault on theatrical ennui: he begins by flaunting purism, brings up an array of irreverent devices, and follows through with that most subtle of tactics: sincerity. The show is so spot-on with its interweaving of Cole Porter songs into the 16th-century script, it's kind of amazing we've never seen it done before. Porter and Shakespeare are clearly brothers in their clear-eyed romanticism, playful gravity, and jackdaw-like ability to subsume any shiny object into their project—which in Porter's case, includes Shakespeare himself. The songs, clearly delivered by a cast with good voices and a serviceable pre-recorded piano, had some of the audience (annoyingly) humming along. From rather obscure numbers like the opening "Use Your Imagination," to much-loved classics like "In the Still of the Night," "Be a Clown," and "Let's Misbehave," it's like getting whipped cream on top of an already-rich dessert; yet they always seem to belong right where they are, just when the familiar story was starting to get a bit snoozy. When David Flores, as an unusually-dignified Puck,  sings about all the legendary women he's wooed in "They Couldn't Compare to You," it's impossible to imagine the song coming from any other Shakespeare character.
Irreverence follows quickly on: from Puck's tee-shirt that proudly proclaims "FAIRY," to Jeremy Welter's clueless hipster Bottom consulting Siri for the phase of the moon, the wily director punctures our expectations with regular spitballs out of left field, to wake us up to what's actually happening. The minimalist set—plain walls framing an enormous bed—sets the action in the nighttime realm of intimacy, sex, and dreaming, as do the players' pajama-like costumes and a giant full moon, painted and illuminated by technical wizard David Roper. Helium balloons on strings create a festive, surreal enchanted woods.
The cast is so well-balanced, it's hard to pinpoint a standout performance, but the three lead actresses all have strong presences: Liz Mistele and Alicia Rice are equally dippy in their own way, but they play off each other's style, Mistele's smugness escalating into hilarious rage against Rice's hysterical accusations. Max Williamson and Jake Konrath as the girls' suitors are plausibly dim-witted and manly. By the time they reach act two's epic pillow fight, with the lovers stripped down to their underwear, the show achieves escape velocity into the stratosphere of screwball comedy.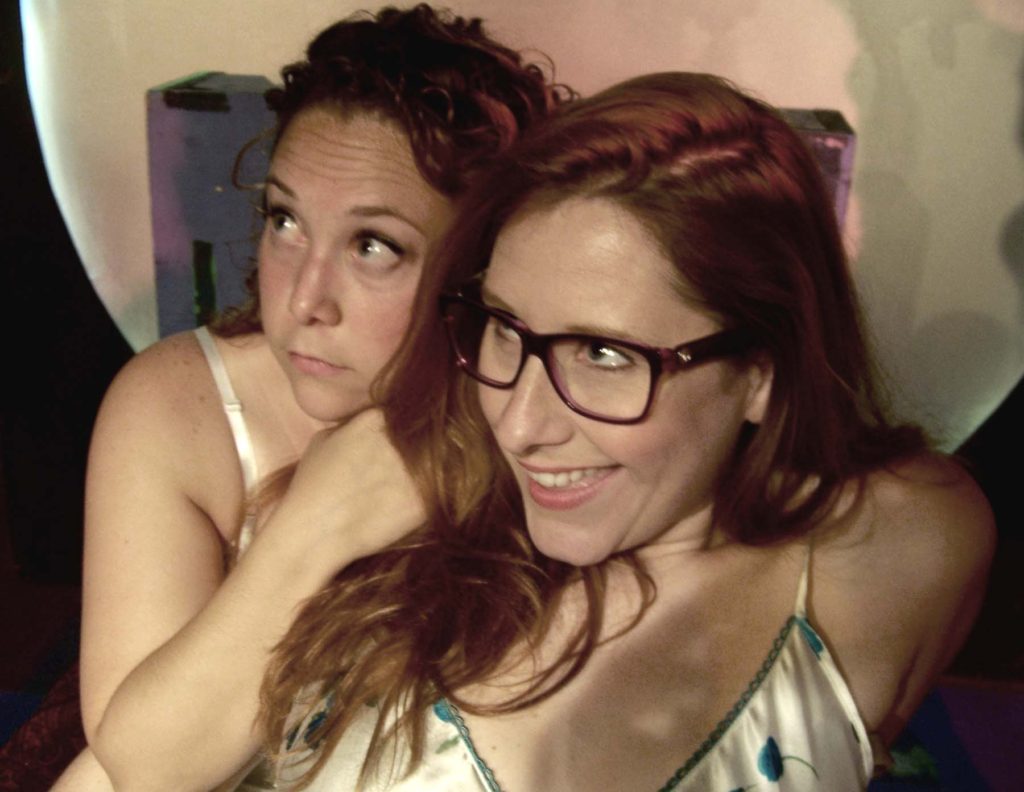 All the flash and dazzle is glittering decoration on what is underneath quite a melancholy reading of the play. Ben George's Theseus begins the play with his captive bride tied to a bed, and despite Laura Monagle's cool self-possession as Hippolyta and Titania, her characters never get the upper hand to the story's powerful male characters. William Molitor's Egeus is a terrifying monster as he demands his daughter pay for her disobedience with her life, and this tension is never fully resolved. Oberon manipulates his queen like a sexual predator by proxy. In all these tensions—which are intrinsic to the play—Gutzman directs his actors to natural, un-histrionic deliveries that actually bring out the poetry much more clearly. You might find yourself thinking: "Oh, I never knew that was in this show." The play-within-a-play put on by the "hard-handed men of Athens," is usually performed as "so bad it's good" farce, but—despite the popping balloon falsies and butt-kissing gags—this Pyramus and Thisbe actually looks like a play being put on by unsophisticated workers doing the best they can; Jim Strange's dying Thisbe is surprisingly affecting.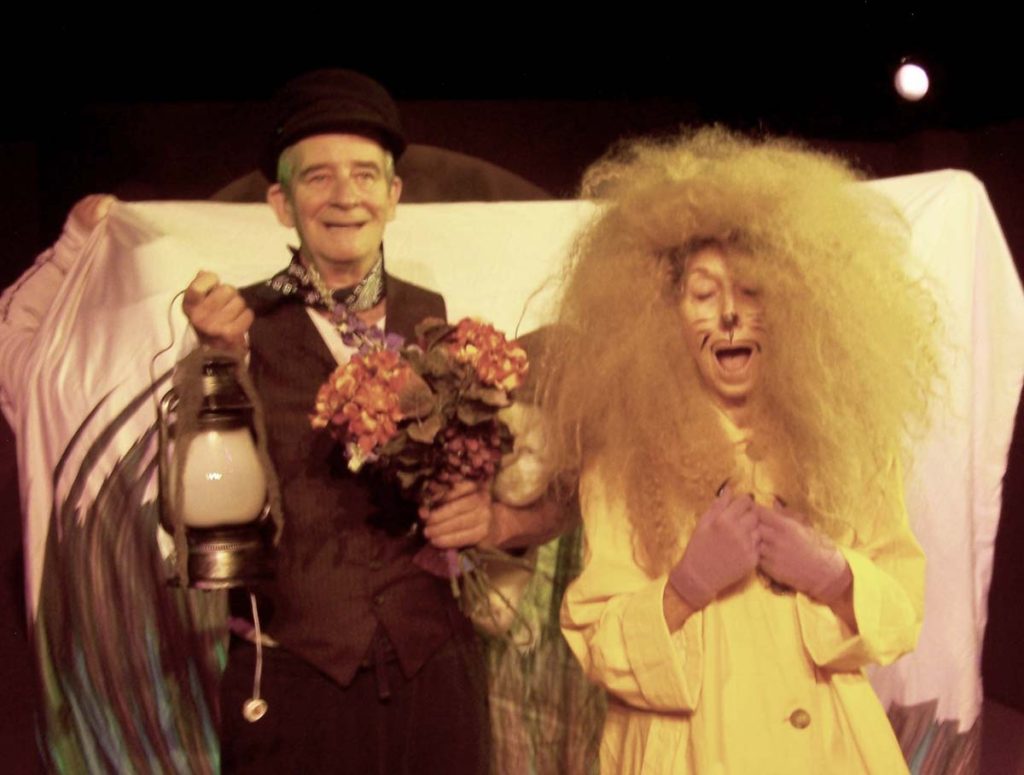 This Midsummer Night's Dream proves that we can keep going back to great plays again and again, and always find something new, something that echoes with and nourishes the elemental in our lives. Can love in fact conquer all? In our dreams, perhaps it can.
Off The Wall Theatre presents
A Midsummer Night's Dream – The Musical
by William Shakespeare
Music by Cole Porter
assembled and directed by Dale Gutzman
Musical Direction by Donna Kummer
Technical Direction by David Roper
Playing through October 27