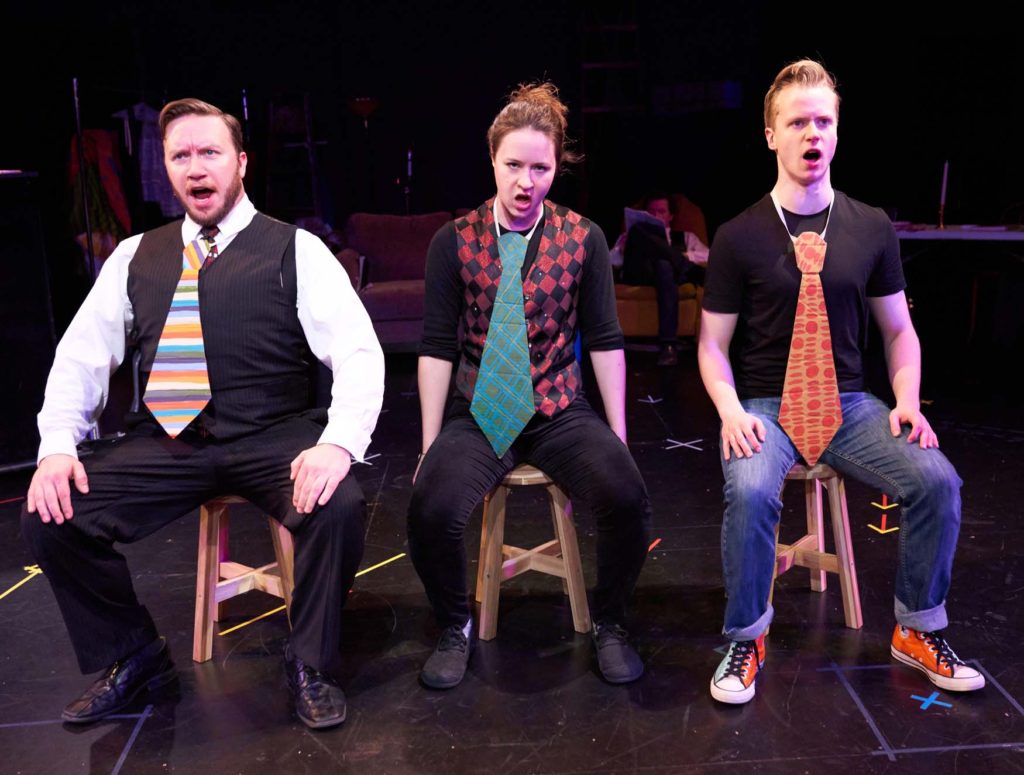 by Jeff Grygny
The poor and wretched don't escape
If they conspire the law to break
This must be so but they endure
Those who conspire to make the law
                   "The Goose and the Common" (18th century protest song)
Back when Thomas Jefferson's parents were kids making moony-eyes at each other, English playwright John Gay mashed up some current news. An infamous highwayman, a famously crooked prime minister, and a basket of popular songs, and voila! Musical comedy was born:  The Beggar's Opera, with its dashing antihero Macheath (a.k.a. Mack the Knife, thanks to Bertolt Brecht, who adapted the play into his own The Threepenny Opera). In a remounting of an earlier production, Theatre Gigante seeks to honor the play's long and complex history, its themes, and its structure, while also bringing it up to date. That's quite a job, but the writing/producing duo Isabelle Kralj and Mark Anderson make it look easy. Chopping and slicing theatrical elements like dramaturgical sushi chefs, they produce a show that's idea-rich and pleasantly disorienting, with strange combinations of flavors from sweet romance to bitter irony.
Gay framed his musical in a story about a playwright putting on a show; in this version, a modern husband and wife team are struggling to keep their small theater company afloat in the stormy sea of economic recession and scant funding. As the story gets underway, the fence becomes a government official in bed with the firms he's supposed to be regulating, Macheath becomes a sleazy Milken-like trader, and so on. (One of the show's funniest gags comes when a character tries to explain the concept of a "tranche" in pantomime.)  But the costumes and settings retain hints of the Eighteenth Century, while the music hearkens back to both light opera and a whiff of Kurt Weil's acerbic dissonance. The players all give slyly ironic spins to their performances, acknowledging us looking at them—perhaps in keeping with Brecht's famous "alienation effect," which dictated that the audience should not become absorbed in the story. (Brecht also advocated the audience smoking during the play; he thought it would encourage analytical distance. But nobody encouraged us to light up during this show—probably for the best.)  
Painted cut-out figures by Carri Skoczek manage to average out the look of George Grosz's Weimar Berlin grotesques with Hogarth's satirical Eighteenth-century caricatures. Another of director Kralj's alienating tactics: perhaps in response to criticisms of the play's female characters, she has made many of them literally two dimensional. The ingenue Polly, and three prostitutes, are played by actors wielding cardboard cut-outs. The songs, composed by area musician Dan Dance, hearken back to the romantic love songs of bygone days, and they sound fantastic under the skilled music direction of Ruben Piirainen. But the performance undercuts any romanticism they might have had. They rather convey the sardonic mood of innocence betrayed, self-dealing openly embraced, and charisma as just another asset in the game of greed.
It's nice to see a good mixture of seasoned and up-and-coming players on this stage. Youngster Ben Yela is a surprisingly likeable crooked bureaucrat, while his conniving wife is played by veteran singer Leslie Fitzwater, whose deep understanding of the musical genre lets her play with the conventions of performance with great gusto. Steven Koehler brings his professional experience to the role of Macheath, adding a hint of desperation to the character's sleazy charisma. A.J. Magoon (is that really a name?), carrying Polly's cutout, delivers her lines, songs, and dances with just a hint of a smirk, but otherwise plays his ingenue role with perfect seriousness. And Rick Pendzich takes enormous glee in making his in-story parts a silly as possible; connoisseurs of cartoon snores will not be disappointed.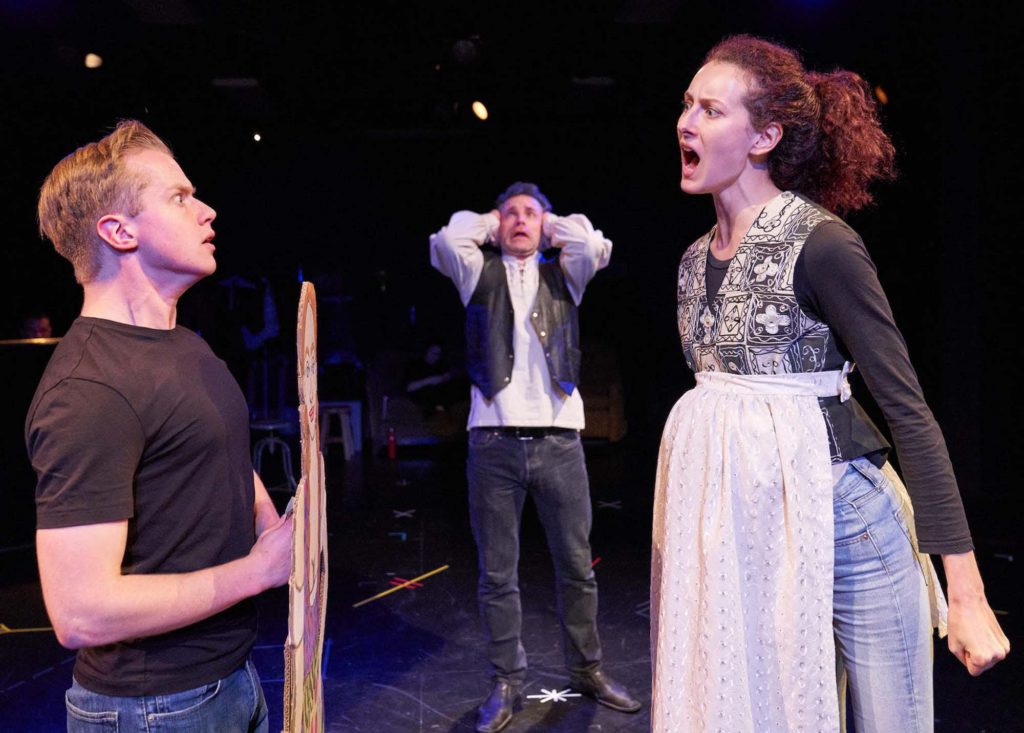 With its references to collateralized debt obligations and Bernie Madoff, the script is more pertinent to the America of ten years ago (a time that seems almost like a golden age compared with today's garbage fire). But in at least one way the landscape is unchanged: slick hucksters still gin the rules for their own profit. It just reminds us how little we have learned in the past decade—or the past two centuries, for that matter. The scam never ends. Even the most sympathetic characters, the theater couple (who, just by coincidence happen to resemble Anderson and Kralj) face their own moral dilemma in the form of a foundation that offers substantial grant support in exchange for sacrificing some artistic freedom—the eternal problem of "selling out." If all big money is tainted by predatory capitalism, how is the artist to pay the bills and still claim integrity? The world makes beggars of us all.
This Beggars Opera doesn't pretend to solve that quandary. But the closing number, beautifully sung by the whole cast, out of character and gathered around the piano, seems to say: "We're all in this together. It's a dirty world—but at least we have each other."
Theatre Gigante presents
The Beggar's Opera
based on the original by John Gay
written and adapted by Isabelle Kralj and Mark Anderson
playing through October 12