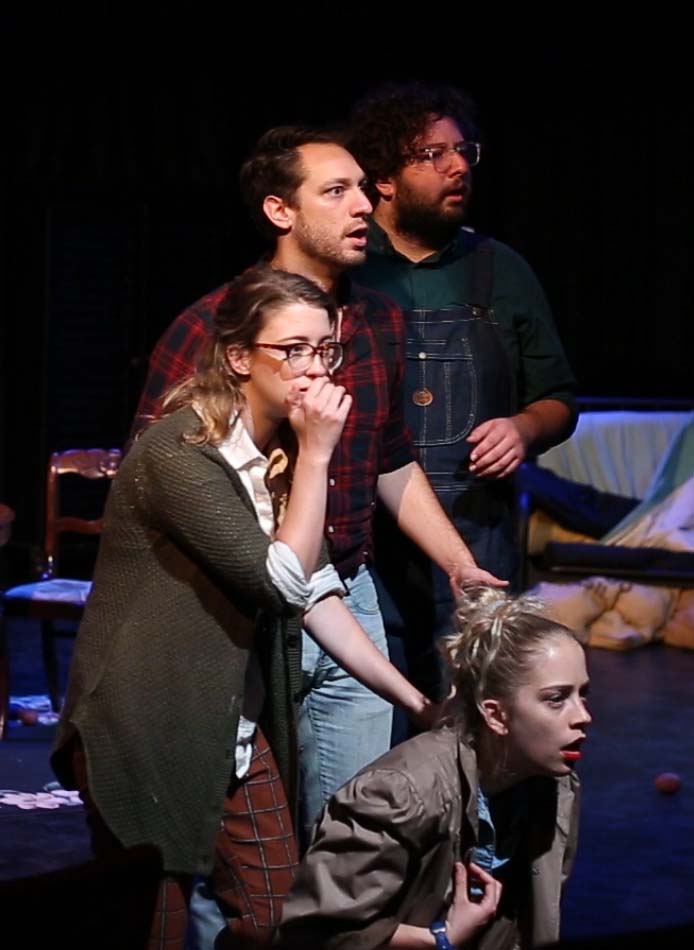 by Jeff Grygny
For the second production of their inaugural season at Saint Kate's Arts Hotel, the ARCo Ensemble is bringing the rarely-produced (at least in Milwaukee) farce They Don't Pay? We Won't Pay! by the Nobel Prize-winning satirist Dario Fo, whose absurdist comedies are as celebrated by leftists as they are hated, banned and persecuted by tyrants and fat cats throughout the globe; Fo was indeed once banned from the United States during the Reagan years. Working in a country with a millennium-long history of crazy despots, from Nero to Silvio Berlusconi, Fo is an expert in the absurdities of everyday life under a system that only makes sense for the people at the top. (Could it help us make sense of life under our current leadership? Hmmm, discuss!)
Far from being the righteous recitation of iniquities you might expect from a subversive play, They Don't Pay? We Won't Pay! is an anarchistic riot, a two-act journey from relative normality into surreal flaming lunacy. The play's original title is Non Si Paga! Non Si Paga!, which might lose a little in translation, just as the satire doesn't map perfectly to the American idiom— any more than you could perfectly transfer Monty Python and The Holy Grail to, say, Ohio— and director Dr. Nancy Kresin doesn't strain to make it do so. But the play's topic of class oppression, combined with it's bizarre, free-association humor, pack a potent punch, whatever the setting. As the situations get more and more deranged, the characters morph from recognizable working-class types into veritable wacky inflatable tube men (and women), pumped up with laughing gas, in a conga line of alternating hysteria and collapse.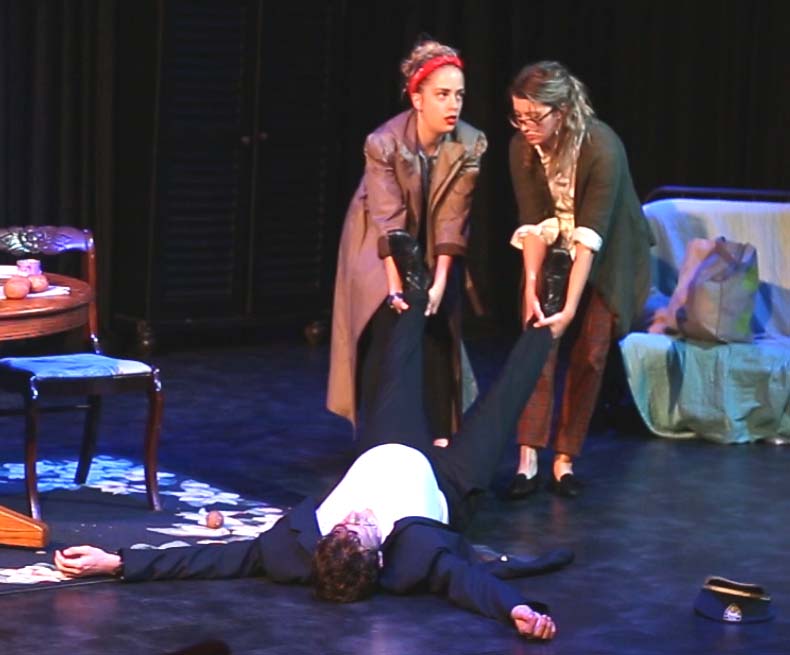 The players bring a fresh, spontaneous feel to the action; they often seem to be riffing in the moment. As a conservative factory worker named Giovanni, Seth K. Hale simmers with dangerous testosterone. Whether transforming convincingly into a pantomime bull or rooster or gingerly sampling the canned pet food his wife left for him (it's pretty good!), he embraces the crazy in an all-in bear hug. When his affable co-worker Luigi, played with understated charisma by Tim Gutknecht, shows up, the laughs kick into overdrive: the two skilled clowns leave no fruits unsqueezed for their delicious comedy-juice.
Their counterparts, Emily Elliot and Rachel Meldman, as their respective spouses Antonia and Margherita, are like an unnatrual fusion of Don Quixote and Sancho Panza with Lucy and Ethel. All of the the confusion stems from Antonia's propensity for making up ever more extravagant lies to conceal her grocery store shoplifting spree, which was motivated by yet another outrageous price hike. Antonia's genius for confabulation includes fake pregnancies, belly-binding, baby transplants, and miraculous interventions by imaginary saints. The versatile J J Gatesman joins the misadventures in four different roles, from a left-wing sympathizing cop to a weirdly hissing one-armed undertaker. It all makes for a show that's energetic, subversive, and hilarious in equal measures.
If it's radical to show how predatory capitalism makes clowns of us all, then They Don't Pay? We Won't Pay! is a radical play—but one that presidential candidate Bernie Sanders would heartily endorse. It's interesting to see how Fo's 1974 message has played out, here at the turn of the twenty-first century. Both Berlusconi's Italy and Trumpf's USA suggest that many of the disenfranchised masses would just as soon embrace the big lie as stand together and fight the power. (I would love to see Fo's 2003 play The Two-Headed Anomaly, which showed Vladimir Putin's brain being transplanted into Berlusconi's head.) Clearly our current crop of comedians has failed to rise to the occasion. Where is our Dario Fo?
ARCo Ensemble presents
They Don't Pay? We Won't Pay!
by Dario Fo
playing through October 26
www.saintkatearts.com/events
Want to get updates when a new review is posted? Send an email to playonmke@gmail.com or visit the SUBSCRIBE page